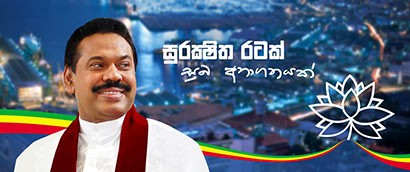 The manifesto of the United People's Freedom Alliance Presidential Candidate President Mahinda Rajapaksa 'Mahinda Chinthana – Lowa Dinana Maga' will be launched today at 9.00am in the BMICH under the patronage of President Mahinda Rajapaksa.
The President introduced his first manifesto at the 2005 Presidential election under the theme Mahinda Chinthanaya and his election manifesto for the 2010 Presidential election was Mahinda Chinthana Idiri Dekma. The new manifesto to be launched today is based on the 2005 and 2010 election manifestos. Political analysts said this manifesto may contain more pragmatic policies for social and economic development of the country.
The government has fulfilled a majority of pledges in the 2005 and 2010 election manifestos and some policies contained in these two policy documents are being successfully implemented.
(Government News Portal)