MR too old at 70 to form new party: Rajitha
Posted by Editor on August 30, 2016 - 10:22 am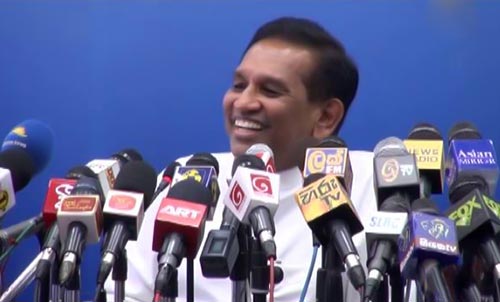 Taking a swipe at moves by the joint opposition to from a new party headed by ex-president Mahinda Rajapaksa, Health Minister Rajitha Senaratne said yesterday such attempts were not conducive for a person who was 70 years of age.
At a ceremony held to welcome the new SLFP organizer for Beruwala, M.M.M.Amjad, the minister said actor turned politician Vijaya Kumaratunga formed the Mahajana Paksaya at the peak of his popularity and at a relatively young age. Therefore, he had a huge backing from voters young and old.
"Mr. Rajapaksa's attempt to form a new party at this old age with a group of old and bankrupt fellow travellers is a big joke. They will be exposed at the forthcoming local government polls. It a pity that they had failed to realize that they are at the tail end of their political life and a large number of joint opposition members will not be seen in the next Parliament," the minister said.
"The modus operandi of the Rajapaksa gang in 2014 was to win elections by spreading racism and ethnic disharmony. This conspiracy was hatched by Gotabaya. He even sent a group to Beruwala to defeat me at the polls. Certain Muslim businessmen worked in cahoots with them. But a big majority of Muslims in Beruwala led by Amjad supported me and ensured my victory. That is why I recommended him to the President to be appointed as SLFP organizer in Beruwala," he added.
The minister said Mahinda and Gotabaya must be ashamed of being the sons of D.A. Rajapaksa because Rajapaksa senior was a great politician who never resorted to crime, racial hatred and anti-national activities and would wriggle in shame if he knew what his sons were doing today.
He said the SLFP recognised the five powerful forces in Sri Lanka — Sangha, Veda, Guru, Govi, Kamkaru under the concepts of justice, fair play, democracy and non alignment but the SLFP was turned into a house of rogues by Mahinda Rajapaksa's brothers and sons.
"It had now became a haven for money launderers, rapists, thugs, rogue businessmen and tavern owners. There is no doubt that if this gang forms a new party, it will be funded by all these criminals and racketeers," the minister said.
He said in Sri Lanka's history politicians in the calibre of Maithripala Senanayaka, Anura Bandaranaike, Chandrika and Vijaya, Lalith Athulathmudali and Gamini Dissanayaka tried to form new political parties after defecting either from the UNP or the SLFP but no one succeeded though both parties remain intact and strong as ever.
The minister said he was going through a transitional period or in a 'Gandabba' position (a position between death and rebirth) and added his main task at this time was to strengthen the unity between President Sirisena and Prime Minister Ranil Wickremesinghe through a bridge of unity and understanding and the task has been extremely successful.
(Source: Daily Mirror – By Sandun A Jayasekera)
Latest Headlines in Sri Lanka