MRS. FONSEKA HAS NO DESIRE TO SEE FONSEKA FREED, SAYS KEHELIYA RAMBUKWELLA
Posted by Editor on October 8, 2010 - 10:32 am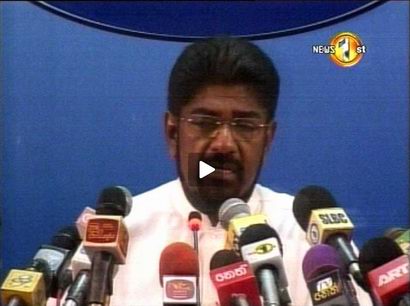 October 07, 2010: Sarath Fonseka's family members are not interested in securing his release, says the Minister of Mass Media and Communication Keheliya Rambukwella.
The Minister made this statement while addressing the cabinet media briefing today.
"When Vijaya Kumarathunga was imprisoned on naxerlite charges, Chandrika Kumarathunga met the President on several occasions and requested for pardon. Anoma Fonseka and their children could therefore act in this regard. Based on the manner in which she is carrying flags around and engaging in a political exercise, I personally think she has no desire to see Fonseka freed," said Keheliya.
"A group including Ranil Wickremasinghe is acting with much enthusiasm in this regard. This resembles a political journey and they are working as if it were one. But family members have an opportunity to make a request , and the President will consider it and take an appropriate decision. That is his prerogative," said Keheliya Rambukwella.
Courtesy:  News First
Latest Headlines in Sri Lanka