Murali and Sangakkara ease Sri Lanka top
Posted by Editor on March 19, 2011 - 8:37 am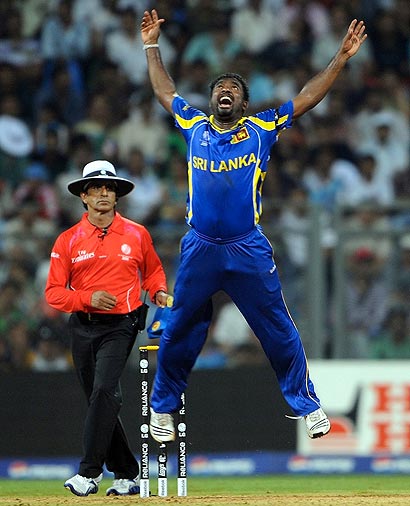 Sri Lanka 265 for 9 (Sangakkara 111, Jayawardene 66, Southee 3-63) beat New Zealand 153 (Taylor 33, Muralitharan 4-25) by 112 runs
Sri Lanka's old guard combined to ease to a 112-run victory over New Zealand at the Wankhede Stadium. Kumar Sangakkara made his first ODI century since June 2008, supported by a controversial 66 from Mahela Jayawardene, to haul Sri Lanka up to 265 before Muttiah Muralitharan spun New Zealand to defeat with 4 for 25.
Coming into the tournament as one of the favourites, Sri Lanka have not quite convinced so far and but for their three most experienced players might have struggled again. Instead the finish was the kind of one-sided result that has epitomised Group A.
New Zealand, though, will rue their misfortune when Jayawardene was reprieved at a critical moment. Sri Lanka had lost both openers and were struggling to get on top of the New Zealand slow bowlers when, in the 24th over, Jayawardene chipped a return catch to Nathan McCullum.
It went low to McCullum's right and the bowler dived full-length to scoop the ball centimetres off the turf. The batsman stood his ground and the decision was sent upstairs. Side-on replays seemed to clearly show McCullum's fingers under the ball but a front-on shot, as it so often does, created doubt that the third umpire, Amiesh Saheba, ruled on. Before then Jayawardene had scrambled for 50 deliveries to make 26 but silkily added a further 40 at a run a ball and Sri Lanka never looked back.
Sangakkara helped himself to a century that he's been waiting 64 matches for. Looking typically unhurried, he was content to work the ball around early on before unfurling some of the stylish strokes that are his hallmark as the innings went on. One six, eased down the ground off Scott Styris, told of a batsman in total control.
The verbal exchanges that Jayawardene got involved with after his escape only served to fire him up and he was soon exhibiting the fluent form that had deserted him since his century against Canada in Sri Lanka's opening game.
The pair added 145 and the importance of the stand was demonstrated by what followed. Sangakkara rushed to his century with four boundaries in six deliveries but was out soon after for 111. Following his dismissal Sri Lanka lost five wickets for 55 in the final 8.2 overs. That they even got so many was almost entirely down to Angelo Mathews, who swatted 41 from 35 balls to thwart New Zealand's fightback.
In the end, the collapse was irrelevant but in the knockout stages, opposition teams will know beneath Sri Lanka's top order is a soft underbelly waiting to be exposed. New Zealand would have backed themselves to make a better fist of chasing but – despite dew, on a ground that will host the World Cup final, hampering the Sri Lanka spinners – Muralitharan and Mendis choked them into submission.
The early work was done by the quicks when Brendon McCullum was given out by the TV umpire after Jayawardene, of all people, claimed a low catch off Mathews. There was some uncertainty as the take was almost spilled at the last moment. TV replays were not entirely certain but, unlike the first time, the right decision was made and McCullum was sent on his was for 14. After Guptill fell for 13, Jesse Ryder and Ross Taylor threatened to make a match of it but the spinners took over.
Mendis' mystery may have faded with exposure but his variations proved too much for Ryder who nibbed a carrom-ball behind for a 23-ball 19. Muralitharan's introduction had been delayed after he picked up an injury while batting. Despite hobbling around, he was still devastating when he finally got into the attack in the 18th over.
A doosra took care of Kane Williamson for 5 before he landed the killer blow by spinning one back into Taylor's pads. Despite a big stride and a review, Taylor was rightly given out for 33 and his team never looked like competing. Scott Styris chipped a return catch to Muralitharan, who belied his injury to spring up and snaffle the chance, and Nathan McCullum and James Franklin soon followed. Between them Mendis and Muralitharan took six wickets for 59 in 14 overs.
Unlike the frenzied excitement in Group B, the qualifiers in Group A are already settled. Sri Lanka are guaranteed to finish second whatever happens between Australia and Pakistan, which might well leave them in line for a contest against the World Cup mysterybox, England, in the quarter finals.
Courtesy: ESPN Cric Info
Latest Headlines in Sri Lanka