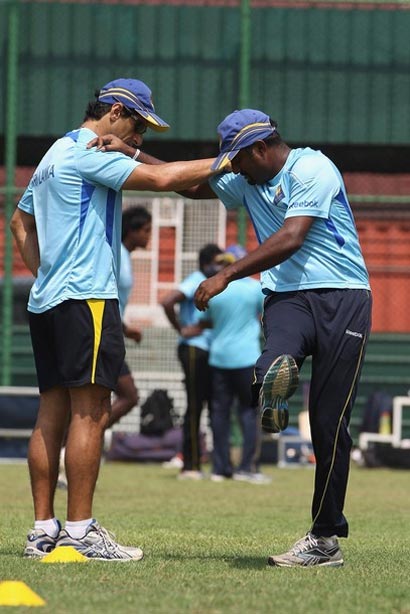 For the second match in succession, Sri Lanka are sweating over the fitness of Muttiah Muralitharan who is nursing a leg injury ahead of the semi-final against New Zealand tomorrow. "Murali and everyone around him is trying to get him as fit as possible and fit enough to play," Kumar Sangakkara said.
"It's no use thinking about the final and saving him for other games, this is the crunch game and if he can play tomorrow that'll be great for us, but if that doesn't work out, we've got enough cover to make sure that we are still a solid winning side."
"At the same time its two different injuries. He knocked his knee at Mumbai and he's just aggravated a quadricep muscle – a very slight strain – in the game before so it's not the same injury. We'll just have to monitor how he goes and hope he is fit enough to play."
Sangakkara said that with injuries, it was crucial to see that both the team and the player were comfortable with him taking part in the match, especially a big one like the semi-final. "If Murali is not fit it's something that we have to accept and get on with."
Having thrashed England by ten wickets in the quarter-finals, Sangakkara said that complacency is the last thing on Sri Lanka's radar. "There's no chance of that happening in anyone's mind. You understand the gravity of the situation, you understand the challenge that's going to come your way, you got to accept it and you got to enjoy it.
"The guys have done pretty well and tomorrow is not going to be any different. You can't play too much to the crowds, or too much to show off, it's a question of playing good solid cricket, concentrate on doing the best. We have set ourselves small goals to achieve, if we keep our heads and we perform as well as we can, we can turn it into a solid performance."
"The expectations are always there, that's not something that we can control, what we really want to do is to make sure that when we go out tomorrow, we are realistic. We stay in the moment and make sure we concentrate on what we have to do and make sure our focus is 100 per cent on tomorrow."
Sangakkara said the win over England was made to look easy because the openers – Tillakaratne Dilshan and Upul Tharanga – came up with a magnificent batting performance. "Those kinds of partnerships don't come very often and that kind of overshadowed the contest as such. But England is a side that we were very wary of and we expected nothing less than their strong performance. In the light of that tomorrow it's a new game for us. It's nothing to do with England, we are starting from square one and we want to make sure that we understand that."
Sangakkara said that his team was building up momentum towards the final and that they were improving by the day. "In a tournament like this, there's never a point when you think over where you are the best. It never happens in cricket. Also in big tournaments it's always a question of gradual and continuous improvement for us. There are lots of areas we have to make sure we cover, we've done pretty much in the two days leading upto tomorrow. The guys are much focussed they are pretty confident but at the same time they understand that it is the performance that counts and that's what we are trying to deliver tomorrow."
Sri Lanka were second-placed in Group A in the league stage which was considered relatively easier compared to Group B but Sangakkara didn't think that was the case. "It's hard to say that we got lots of breaks in the group stages and very few breaks this time. That's not something that we can control, the schedule was set long before and we are happy that we have got here. Ours is to go one step further tomorrow."
Sri Lanka used three specialist spinners plus the occasional spin of Dilshan against England, but Sangakkara did not indicate what their plans were against New Zealand. "We thought that was the best combination to play against England. It was a very good track and it stayed true throughout. At the same time we have to consider other options as well. We have fast bowlers, especially Nuwan Kulasekara, who has done exceptionally well against New Zealand. So we got to make sure we play the right combination."
ESPN Cric Info – Pix by Getty Images