Nasheed seeks refuge in Indian mission
Posted by Editor on February 13, 2013 - 5:56 pm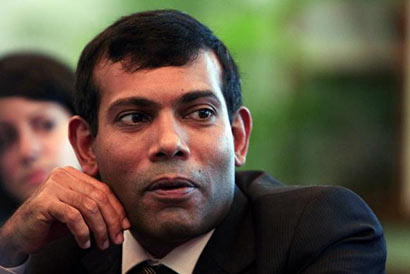 Submitted by Walter Jayawardhana
Former Maldivian President Mohamed Nasheed sought refuge in the Indian High Commission after issuance of an arrest warrant by a Maldivian court. The arrest warrant was issued against him for failure to appear in a local court.
Earlier, as rumours began to do the rounds that Mr.Nasheed has sought refuge, the Ministry of External Affairs officials told The Hindu that "it was not a crisis situation." Mr. Nasheed was waiting to meet the Indian High Commissioner — who was not at the premises — and that he had not sought refuge in the Indian High Commission.
A reconstruction of the events that began with Mr. Nasheed staying away from the local court is as follows: Since Mr. Nasheed did not appear at the Hulhumale' Magistrate Court for the second hearing in the case of Judge Abdulla Mohamed on February 10, the court order was issued to arrest him on February 11. He was to be produced in the court on February 13. Mr.Nasheed's legal team appealed in the High Court against the arrest. The High Court accepted the appeal but has not passed a ruling.
Since it appeared that the police were bent on arresting him on Wednesday, Mr. Nasheed made his way to the Indian High Commission. "You cannot call it an arrest," said President's spokesperson Masood Imad. "The police have been asked to produce him in Court since he has not responded to summons issued in the case relating to kidnapping of a judge. If the police do not carry out the order, they will be in contempt of court," he added.
By telling the international press that Mr. Nasheed was in the Indian High Commission, and by creating a scare that the "police might storm the Indian High Commission premises," the MDP managed to bring focus to the case.
MDP's international spokesperson Hamid Abdul Gafoor said that the arrest warrant and the charges against him are politically motivated. "The regime is fearful of Mr.Nasheed's popularity, so they are pulling out all the stops to prevent his name appearing on the ballot paper," he said. The Presidential elections are scheduled to be held on September 7.
The MDP wanted the international community to immediately intervene to ensure a free and fair trial for Mr.Nasheed. Claiming that a medical emergency in India was the reason behind Mr.Nasheed being unable to attend the second hearing of the case, scheduled for February 10, it said that due process was not followed. "According to the regulations, if the accused is unable to attend the hearing and after informing the court, documentation must be provided to the court within two working days. While time frame to produce the documents has not even passed, and when the documents were being processed, the court issued an arrest warrant," the MDP said.
(Courtesy the Hindu)
Latest Headlines in Sri Lanka