Julie Bishop in interview with ABC: Australia should encourage C'wealth members to attend Colombo summit
Posted by Editor on February 14, 2013 - 8:36 am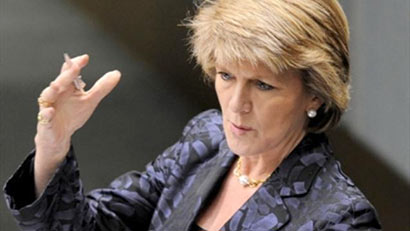 Australia's opposition leader Julie Bishop said she was satisfied that Australia should attend the Commonwealth Heads of Government Meeting in November and also encourage member countries to do so.
"As far as the Commonwealth heads of government meeting later this year is concerned,
I'm satisfied that Australia should attend and should encourage other Commonwealth countries to attend. The Sri Lankan government is not perfect but it is making inroads into the challenges facing the country and should be encouraged to continue to do so," she said during an interview with ABC after leading a delegation to Sri Lanka early this month. "As a result of our visit we are satisfied that the policy positions that we have taken are the correct ones at this time.
It was not our job to visit Sri Lanka to take sides between the Sinhalese and the Tamils, it was not our job to involve ourselves in domestic policies or domestic politics or indeed some of the controversies but we certainly spoke to many people about these issues," she said. "We have to remember that Sri Lanka is emerging from a bloody conflict, a 30 year civil war. The Tigers, the LTTE was in fact a proscribed terrorist organisation in a number of places around the world. The Sri Lankan forces defeated the LTTE forces and we must remember that the LTTE had a navy, an air force and had essentially occupied northern Sri Lanka. Hundreds of thousands of people were displaced as a result of the conflict which ended three years ago," Bishop said.
"We visited Jaffna and Kilinochchi in the northern province which was held by the Tigers for so many years and we were struck by the amount of reconstruction work that is going on. Billions of rupee have been invested in major infrastructure projects, roads, and this is all quite self-evident when you travel up to Jaffna. New highways, roadworks everywhere, water sanitation projects, electricity transmission. You have to remember much of the north has never had electricity and now a majority of the north has electricity. There's still some way to go. The mobile phone coverage was superb. Indeed I got better mobile phone coverage throughout the north of Sri Lanka than I do driving through Kings Park in Western Australia," she said.
Courtesy: Daily News
Latest Headlines in Sri Lanka