National Government from tomorrow
Posted by Editor on August 23, 2015 - 8:49 am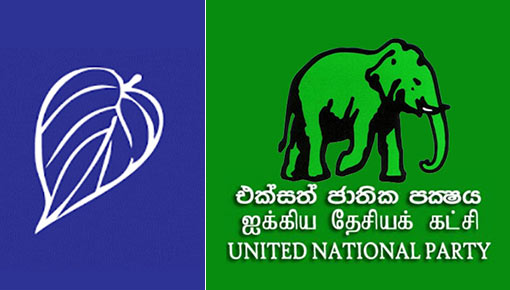 The proposed consensus government between the United National Front (UNF) for Good Governance and the Sri Lanka Freedom Party (SLFP) will be formalized with over 70 members being sworn in tomorrow (24). The new consensus government – the first of its kind in Sri Lanka – is likely to enjoy an absolute majority, with over 50 out of 95 parliamentarians representing the Untied Peoples' Freedom Alliance (UPFA) expected to be included in the new administration.
The United National Front (UNF) enjoys 106 seats in the Parliament.
Top political sources said it was initially agreed to limit the Cabinet to 30 ministers and 40 deputies, but given that both political parties have near equal representation, the number of deputies may be increased by September 1, the day the Eight Parliament is scheduled to be convened.
The consensus government will function as a united front for a period of two years, as per the understanding reached between the two main political forces on August 21.
During the two-year period, it has been agreed that government members will not switch parties. While the MoU would automatically lapse on 21 August 2017, the period can be further extended if agreement is reached between both the political parties.
The main political parties have agreed to work as a 'common front' on nine identified areas including the safeguarding of fundamental freedoms, fighting corruption, economic agenda, promotion of health and education, protection of women and child rights, promotion of the arts and culture, commitment to a non-aligned foreign policy that fosters goodwill with the global community as one, making key decisions with regard to the developmental agenda including projects and to commemorate the founders of both the political parties.
(Sunday Observer)
Latest Headlines in Sri Lanka