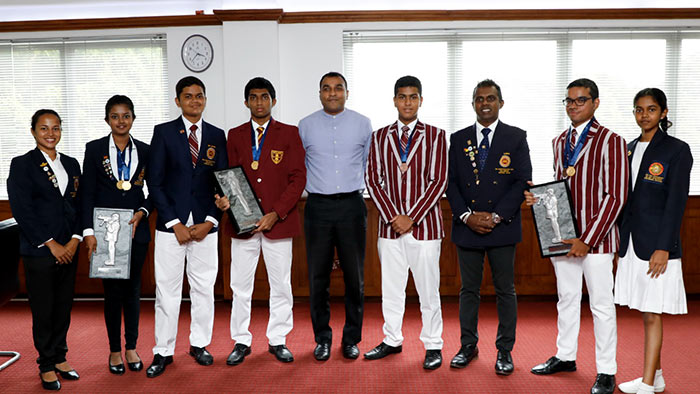 The National Shooting Championship organized by the Sri Lanka Navy for the 7th consecutive time was held from March 28 to April 04 at the Welisara Navy Shooting Range.
Students representing several schools who had won laurels at the championship tournament called on the State Minister of Defence Premitha Bandara Tennakoon at the Ministry in Colombo on Monday (April 10).
While talking to the young sports achievers, the State Minister recalled that the development of sports shooting was one of the main concerns that he had focused on when he took up his portfolio.
The students and their coach, Nandana Weerasinghe said that bringing home an Olympic medal is their ultimate goal and stressed the need for a 10 meter air gun shooting range of international standard to make it a reality.
State Minister Tennakoon stated that sports shooting is a sport that has a high potential to bring international fame for Sri Lanka in terms of physical fitness and existing performance levels of marksmen.
While extending his heartiest congratulations to them for their achievements, State Minister Tennakoon said that he would personally intervene to construct an international shooting range in consultation with relevant authorities.
Nehasha Weerasinghe of Sirimavo Bandaranaike Vidyalaya, who won the championship in both the junior and open categories of the 10m air pistol women's event, Randhir Senaratne of Nalanda College who won the 10m air rifle youth championship and third place in the open category, Pavith Rodrigo of Nalanda College who won the third place in 10m air rifle open category,  MM Abhilash Indisa of Ananda College who won first place in the 10m air rifle junior category,  UKD Tisangi Geethma of Visaka Vidyalaya and Ravin M Premarathne of Nalanda College who represented at the World junior Championship 2022 competition, WHAJ Dhanara Weerasinghe of Sirimavo Bandaranaike Vidyalaya who won second place in the youth category of 10m air rifle event in 2022 and got selected to the youth pool, and Movidu Shyamantha Wijenayake of D.S. Senanayake College who won the third place in the 10m air pistol junior category along with their coach Nandana Weerasinghe, were present at the occasion.
(Ministry of Defence)