National Zoo to get three new Asian elephants
Posted by Editor on August 21, 2013 - 12:13 pm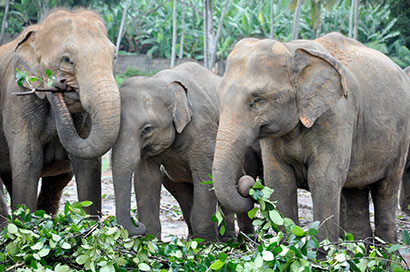 FILE PHOTO
In June the Calgary Zoo, part of which sits on an island in the Bow River, was devastated by flooding. Two hippos almost escaped. The elephants stood in two feet of water, and the zoo suffered $50 million in damages.
Much of the zoo, including its elephant exhibit, remains closed. But the decision to relocate its elephants had been made before the flood, officials said.
The Washington-bound elephants are Kamala, 38, Swarna, 38, and Maharani, 23.
They will join the National Zoo's females, Bozie, 37, Ambika 65 — the second oldest Asian elephant in the country — and Shanthi, 38. The zoo also has a male, Kandula, 11.
As a result, the zoo's grocery bills will go up.
The zoo offers each elephant about 200 pounds of hay a day, director Dennis Kelly said. That means daily consumption could go from about 800 pounds a day to 1,400 pounds day. Fortunately, he said, the zoo grows its own hay.
The Calgary Zoo said in a statement that it will retain ownership of its elephants "for a period of time to ensure that their long-term needs continue to be met." Kelly said that will likely later become a permanent transfer. "Calgary has no intention of taking them back," he said.
David Rubenstein, the Washington philanthropist who has been a major National Zoo benefactor, is providing $2 million to effect the transfer, officials said. That will pay for, among other things, transportation, keepers' travel, veterinary assessment and upgrades to the facility to accommodate the new tenants.
Kamala, the Calgary group's matriarch, was born in 1975 in Sri Lanka's Yala National Park. Orphaned at six months of age, she was found at the bottom of an abandoned well by park staff. Her name is Hindi for Lotus Flower. She was brought from the Pinnawala elephant orphanage in central Sri Lanka to Calgary in 1976.
Maharani, who was born in Calgary in 1990, is Kamala's daughter.
Swarna also came to the Calgary Zoo in 1976 from the Pinnawala orphanage. (Washington Post)
Latest Headlines in Sri Lanka