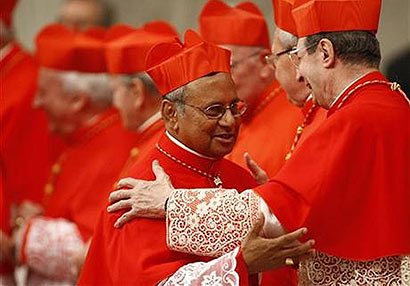 – By Walter Jayawardhana –
America's NBC news service listed Cardinal Malcom Ranjith of Colombo as one of twenty most possible candidates to become the next Pope as thousands converged at St.Peter;s Square for the chance to join Roman Catholic cardinals for a special pre-conclave mass.
The report said "The "Mass Pro Eligendo Pontifice" was due to begin inside the imposing St Peter's Basilica at 10 a.m. local time (5 a.m. ET) in front of a small congregation of worshippers chosen from the square on a first-come, first-served basis.
Deliberation and voting in the papal conclave, which takes places in the 16th century Sistine Chapel, won't begin until after 5 p.m. local time (12 p.m. ET) Tuesday.
There's a growing tension between those who seek institutional tradition and those who want to move the Catholic Church forward and reenergize its ranks. NBC's Anne Thompson reports.
Before that, there'll be more ceremony: After lunch, the 115 cardinals eligible to vote will move from their temporary residential quarters at in the Casa Santa Marta to the Pauline Chapel from where they will form a procession into the Sistine Chapel.
It will be the last time they are seen publicly until they choose the new pope – a process that could take several days and will be heralded by the appearance of white smoke from the chimney above the chapel. In the meantime, they will be isolated from the outside world and banned from using cellphones or watching television.
Once inside, each will swear an oath of secrecy – a breach is punishable by ex-communication – before an official proclaims in Latin "Extra omnes," meaning all others present must leave.
The oath-taking process is expected to last about an hour, and will be followed by mediation and prayer led by Cardinal Prosper Grech.
When the voting finally begins Tuesday, there will be one round of voting in the late afternoon, followed by two every morning and two every afternoon until someone gets two-thirds of the votes.
During the day, cardinals will deliberate inside the Sistine Chapel beneath Michelangelo's "Creation of Adam." At night, they will be taken by shuttle bus the short distance to the modest rooms in Casa Santa Marta, which John Paul II had built in 1996.
Such is the importance of secrecy that Vatican officials have installed jamming devices to prevent the use of cellphones by cardinals or hidden microphones by anyone wanting to hear their deliberations.
He leaves his successor a sea of troubles – including seemingly never-ending sex-abuse scandals, rivalry and strife inside the Vatican bureaucracy, a shortage of priests and a rise of secularism in its European strongholds.