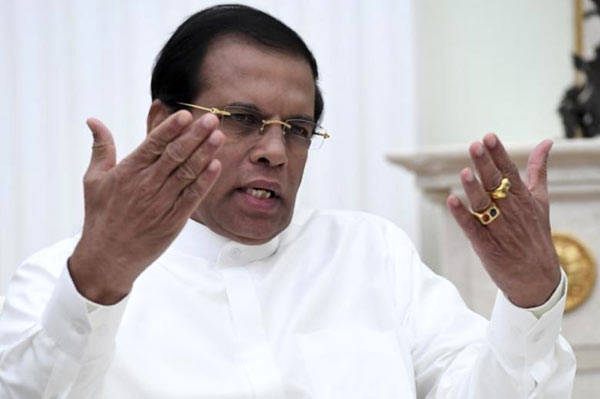 NEW DELHI: Sri Lankan President Maithripala Sirisena on Wednesday called PM Narendra Modi to deny reports that he had accused India's external intelligence agency RAW of plotting to assassinate him and a former defence secretary.
An official statement issued here quoted Sirisena as categorically telling Modi that the report in question was without basis and "seemed intended to create misunderstanding between the two leaders as well as to damage the cordial relations between the two friendly neighbours".
Srisena told Modi that he had personally taken steps, including holding a meeting with the Indian high commissioner to Sri Lanka, to refute the report, the official statement emphasised.
The report in question had claimed that Sirisena told his ministers at the weekly cabinet meeting about the alleged RAW conspiracy to assassinate him and former defence secretary Gotabaya Rajapaksa.
According to the official statement, in his conversation with Modi, Sirisena said he considered the Indian PM to be a "true friend".
On his part, the PM appreciated the prompt steps taken by the President and his government to refute the "malicious" reports by publicly clarifying matters.
Sirisena's election as president had been seen as a "gain" for India because of the overt tilt of his predecessor and rival, Mahinda Rajapaksa, towards China. In fact, Rajapaksa had attributed his defeat to RAW's meddling in the elections.
Sirisena's call to Modi followed a statement by Sri Lanka's ministry of foreign affairs calling the report "baseless and false". "The ministry wishes to emphasise that relations between India and Sri Lanka… are strong. It is disappointing that matters of this nature have become the subject of distorted media reports…," the statement said.
(The Times of India)