New Casino Bill in House before Budget 2014
Posted by Editor on October 23, 2013 - 8:10 am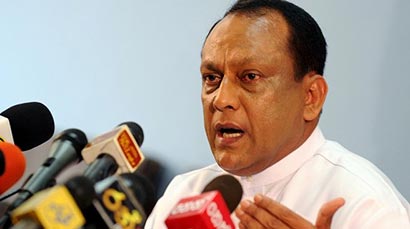 The Casino Bill (Strategic Development Project Bill), which was rejected at the Party Leaders' Meeting on Monday night, will be tabled in Parliament again, after making amendments to it before Budget 2014, Minister of Investment Promotion, Lakshman Yapa Abeywardena, told journalists yesterday.
The minister was talking to the local and Colombo-based international media at the Government Information Department, on the sidelines of a news conference to announce 'Reflection of Sri Lanka: Exploring the Wonder of Asia Exhibition in Colombo, coinciding with the Commonwealth Heads of Government Meeting (CHOGM), which is expected to attract representatives from 70 nations.
Responding to questions by journalists as to why the debate in Parliament scheduled for Thursday and Friday on the Draft Strategic Management Bill was postponed, he said the Government of President Mahinda Rajapaksa paid heed to the views of all the constituent parties of the government.
Continuing, the minister said: "The President did not say this Bill will be immediately withdrawn. He only said the Bill will be presented with amendments. Therefore, there is no issue.
"James Packer is the fourth richest man in Australia. Hence, a person like him coming to Sri Lanka to invest was welcomed by many.
"The postponement of the debate has no impact on investments. Our government does everything to avert any harm befalling political stability. Hence, the President will be discussing with every constituent party of the government. Only after that we shall be implementing.
"We expect to table the Bill in Parliament after making the amendment expeditiously, before the upcoming budget proposals. The debate on it will only be after a month. I am expecting to take up the casino Bill under the Investment Promotion Ministry.
"The President told me to inform everybody about this and make it clear to everyone that the government does not do anything wrong. We shall get this Bill passed with the support of all."
(Courtesy: Ceylon Today)
Latest Headlines in Sri Lanka