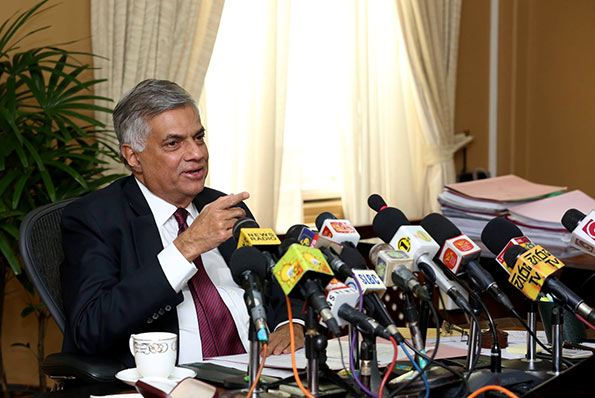 Prime Minister Ranil Wickremesinghe yesterday assured that the proposed new Constitution would be introduced through a transparent process.
Dismissing claims made in some quarters that a new Constitution couldn't be introduced, Premier Wickremesinghe stressed that unitary status would be preserved. The Premier assured that the proposed constitutional making process would be guided by the Sixth Amendment to the Constitution which had been introduced to thwart attempts to divide the country.
The PM emphasised that the government would not only adopt the new Constitution with a two-thirds majority in Parliament but have it endorsed by the people at a referendum.
The PM made the statement at Temple Trees yesterday.
Wickremesinghe said 25 to 30 MPs couldn't be allowed to undermine the Constitutional making process.
The Premier said that the late Ven. Maduluwawe Sobitha Thera had requested both President Maithripala Sirisena and him to enact a new Constitution through constituent assembly. According to Wickremesinghe, the request had been made at a meeting before the demise of Ven. Sobitha. The UNP leader said that they had pointed out to the Ven, thera that the constitutional assembly couldn't be established outside Parliament.
Referring to various difficulties experienced during previous constitutional making attempts undertaken by previous governments, PM Wickremesinghe recalled that one-time Opposition leader A. Amirthalingham (TULF) had refused to participate in the process on the basis that his party had received a mandate to secure a separate country.
Premier Wickremesinghe emphasised the pivotal importance of having the new Constitution adopted with the agreement of all political parties represented in Parliament.
The PM said Parliament would have to agree on the procedures in respect of the formation of the Constitutional Assembly.
As Committees required to facilitate the process couldn't be appointed in accordance with the Standing Orders, the government would act on the basis of Article 74 to overcome current obstacles, the Premier said. Having already approved a proposal in respect of committee in accordance with Article 74, how a section of the Opposition could now assert Constitutional Assembly couldn't be appointed under the same clause, he asked.
Acknowledging that the SLFP had called for amendments, Premier Wickremesinghe said that the UNP didn't have proposals in that regard. "We are ready for amendments. We will discuss amendments with the Constitutional Assembly."
(Source: The Island – By Shamindra Ferdinando)