Entire world blesses the program of the new government – President
Posted by Editor on January 18, 2016 - 7:56 am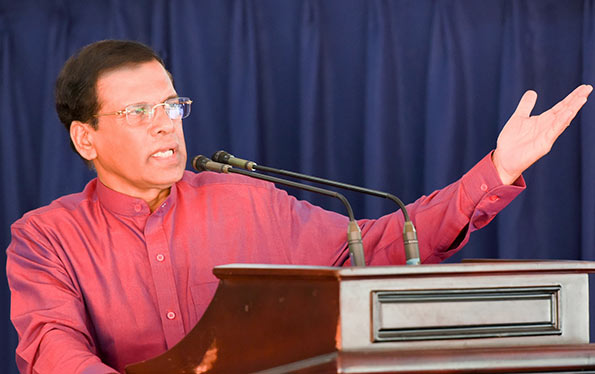 Despite local criticism, the entire world is blessing the program of the new government of Sri Lanka, says President Maithripala Sirisena.
Therefore, what we should do today is not to waste time by giving answers to the criticisms of the political opportunists but to fulfill the responsibility, undertook for the country and the people, he added.
The President yesterday (Jan. 17) made these remarks ceremonially commencing of the constructions of the roundabout in the Polonnaruwa Town, inaugurating the road development of the Polonnaruwa District, under the 'Pibidemu Polonnaruwa' five years district development program.
The President stated that there is a competition among the international community help the development of Sri Lanka. "This is due to the better governance and the middle path which Sri Lanka takes in foreign relations.
"Attention of every country is being paid on Sri Lanka today due to the correct foreign policy of the government", he said. He stated he has been invited for an official visit to Germany. "This is the first time that a leader of Sri Lanka has been invited for an official visit in Germany after 43 years", he said.
He also stated that he has received more invitations from developed countries for state visits. "All these invitations came not on the requests by me, but because of the friendship of the leaders of those countries", the President further stated.
"We will start a lot of development programs with the assistance of these friendly countries by making 2016 an year of a transformational development in Sri Lanka", he said.
"The development should not be stored in any district. It is essential to maintain in a fair and balanced manner. It is the politicians responsibility to extend the hands of the development to everybody", the President further stated.
Minister Lakshaman Kiriella, State Minister Dilan Perera, Chief Minister of the North-Central Province Peshala Jayarathne, Member of Parliament Siripala Gamlath and Nalaka Kolonne also participated in this occasion.
(President's Media)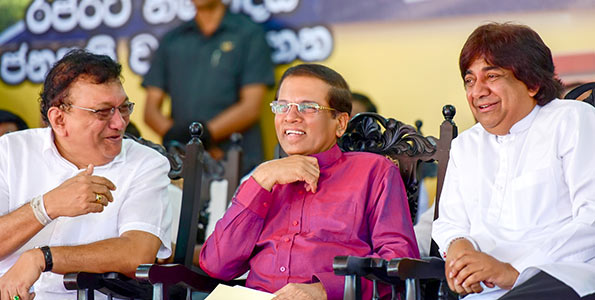 Latest Headlines in Sri Lanka