New Finance Minister sees country's private sector as vanguard of growth
Posted by Editor on May 24, 2017 - 6:45 am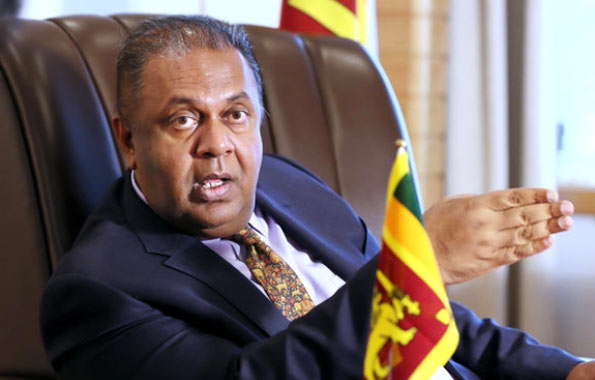 The country at the time of the change of government in 2015 was like the Meethotamulla garbage dump, Finance and Mass Media Minister Mangala Samaraweera told Parliament yesterday.
Moving seven resolutions under the Appropriation Act for debate, the new Finance Minister said: "I had serious doubts when I accepted this portfolio. I was wondering whether the shoes were too big for my feet. Many illustrious political leaders and statesmen of the past held this post. Among them were people like Ronnie de Mel, N. M. Perera, J. R. Jayewardene and Felix Dias Bandaranaike. I hope to obtain the expertise of both government and private sector leaders to do my best.
"I have accepted this portfolio at a time when a strong foundation has been laid down to develop the economy faced with a heavy debt burden. That foundation was laid down by my predecessor, incumbent Foreign Minister Ravi Karunanayake.
"When I saw  the recent Meethotamulla disaster, it struck my mind that there was no difference between that garbage dump and the country we accepted on Jan 08, 2015. On one side there is a heap of dead bodies of journalists, of children who had asked for drinking water and others. The country was internationally isolated. The UN had been forced by the rest of members of the international community to commence an investigation against us without asking for our consent. They we had to contend with the problem of loans to the tune of Rs 8,503 billion. There had been no fiscal discipline and the Treasury was empty. We have been able to put the country's economy on the right track again. The former President had to hide in a van carrying bread to reach a foreign airport to avoid protesters. Our fishermen lost the opportunity to sell their products to Europe. Before completion of two years, we managed to obtain GSP Plus. Last March, 48 other nations voted for us to secure GSP Plus. The president and the prime minister are invited by other nations.
"We have to accept the fact that those who died were Sri Lankans whether they were from the North or the South.
"I see the private sector as the vanguard of our economy. We would obtain their contribution for the development of our economy. This economic structure is based on open economic policies introduced by former President JR Jayewardene. We need to introduce several reforms in keeping with the latest developments in international economic realm. We will convert this country into an economic hub in the Indian Ocean by 2025."
(Source: The Island – By Saman Indrajith)
Latest Headlines in Sri Lanka