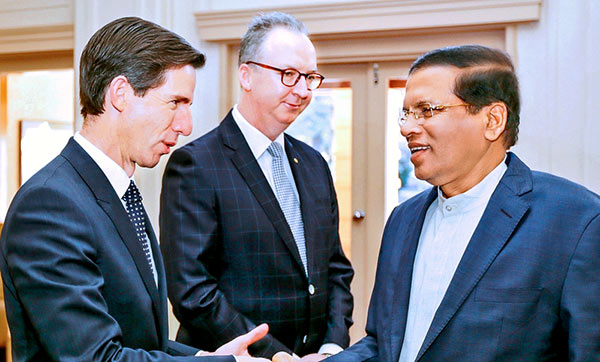 President Maithripala Sirisena yesterday said he has instructed the authorities responsible for the country's security to strictly impose the law against those who try to disrupt peace in the country, irrespective of their status.
The President said at a time when a broad dialogue has been initiated for peace and reconciliation in the country, a small group of politically affiliated people with vested interests were trying to instigate problems to put the government into difficulty.
The President was speaking to a group of Sri Lankans domiciled in Australia at the Sri Lankan High Commission in Canberra.
The President went on to say that to propagate peace and unity in the country the government had brought the 19th Amendment.
He said that even separate ministries have been established to realise the above.
While noting that the recent spate of strikes launched by a group of doctors in Sri Lanka will affect the opportunities of children at higher education, the President said needy parents even go to the extent of selling their belongings and property to meet their children's expenses at private educational institutions.
President Sirisena also noted that a large number of government doctors have now sought greener pastures in foreign countries.
(Source: Daily News – By T. Chandrasekera in Canberra)