New Luxury train service to Palai from today
Posted by Editor on March 7, 2014 - 1:57 pm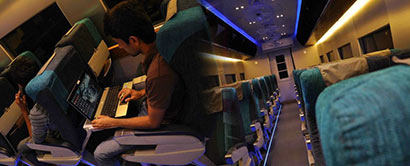 A new luxury air-conditioned train service from Colombo Fort to the newly commissioned Palai Railway Station will set off at 2.45 this afternoon, the Railway Department said.
Sri Lanka Railways (SLR) Operations Superintendent L.A.M. Ratnayake said the luxury train would reach the Palai station at 8.28 p.m. and would stop at Anuradhapura, Vavuniya and Kilinochchi Railway Stations.
The train will leave Palai Station at 6.50 a.m. and will reach Colombo Fort 12.50 p.m.
Mr. Ratnayake said a one-way journey would cost Rs.1400.
The Railway Control Room announced the other services to and from Palai as follows:
The 'Yal Devi' will leave from Colombo Fort at 5.45 a.m. and reach Palai at 1.20 p.m. It will return from Palai on the following day at 6.50 a.m. and reach Colombo at 12.27 p.m.
A night mail train will operate from Colombo at 8.15 and reach Palai at 4.40 the following morning.
Another train service starts from Matara at 6.20 a.m. to reach Colombo Fort and leave the Fort Railway station at 9.40 a.m. to arrive at Palai at 4.50 p.m. on Saturday. This train will leave Palai on Sunday at 9.50 a.m. and reach Fort at 4.45 p.m.
The railway control room said the train from Matara would be the only one leaving to Palai from Fort on Saturdays.
(Courtesy : DM Online)
Latest Headlines in Sri Lanka