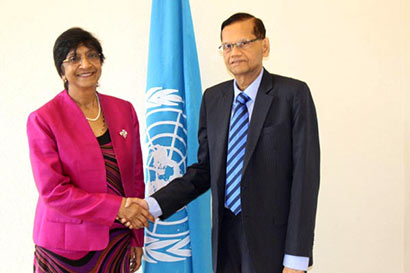 Minister of External Affairs Prof. G. L. Peiris has said that the highly prejudiced actions by sections of the international community and the Office of the UN High Commissioner for Human Rights to give disproportionate attention to Sri Lanka had only made the separatist diaspora Tamil elements and their proxies in the north more intransigent, making the intensely difficult task of achieving reconciliation in Sri Lanka even harder.
Prof. Peiris has made this accusation when he met Mrs. Navaneetham Pillay for a meeting.  He has said that the High Commissioner was well aware of the important political decisions the government of Sri Lanka had taken in the restoration of normalcy to those affected following the conflict, channeling the necessary resources to develop the previously conflict affected areas and  holding of the Northern Provincial Council elections,  which four previous Presidents over 26 years did not have the courage to do.
Minister Peiris drawn the attention of the High Commissioner about the objections he made to the report submitted by her to the current Human Rights Council sessions where he detailed the lack of objectivity and patent bias evidenced in her report which also called for the setting up of an international inquiry mechanism on Sri Lanka.
The Minister has stressed that the report was both one sided and politicized. He has said it was particularly unfortunate that the High Commissioner should have done so after having the benefit of an extended visit to Sri Lanka where she was given unimpeded access. Noting that the High Commissioner had undertaken her visit almost 2 ½ years after the original invitation was extended by the Government of Sri Lanka, the Minister has said that that some of the High Commissioner's comments while in Sri Lanka and her final report represented a lost opportunity in contributing positively to Sri Lanka's reconciliation process.
Minister Peiris has emphasized that the bias, unfairness with which Sri Lankan was being treated was also evident in recent acts such as the refusal of the OHCHR to place Sri Lanka's comments on the High Commissioner's report as an addendum, as done when she presented her report in the previous year.
(Courtesy : Government News Portal)