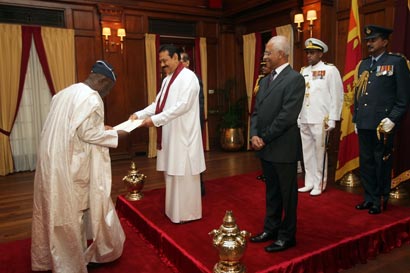 In furtherance of bilateral relations between Sri Lanka and Nigeria, the Government of Nigeria has opened its Resident Mission in Colombo.  The very first Nigerian High Commissioner resident in Colombo, Femi Akenson Rotimi presented his credentials to President Mahinda Rajapaksa on the 14th September  2012.
Sri Lanka established formal Diplomatic Relations with Nigeria in January, 1970.  The first High Commissioner for Nigeria to Sri Lanka with residence in New Delhi was appointed in August, 1970.
Both Sri Lanka and Nigeria adhere to the principles of the Non – Aligned Movement (NAM) and are active members of the Commonwealth.
Nigeria is an active member of the largest sub regional organization in the African Continent, the Common Market for Eastern and Southern Africa (COMESA) which has a membership of 20 countries followed by the Economic Community of West African States (ECOWAS).  Further, Nigeria is also a member of the G-15, Organization of Islamic Countries (OIC), Indian Ocean Rim Association for Regional Cooperation (IOR-ARC) and a member of the 12-member Organization of Petroleum Exporting Countries (OPEC).
It is expected that the establishment of a Nigerian Mission in Colombo would facilitate further strengthening of  bilateral and enhancing of  two way trade, tourism as well as investment promotion.
Demonstrating its commitment to the Afro-Asian solidarity, on 03rd April 2002, the Cabinet of Ministers of the Government of Sri Lanka granted approval to establish a resident Sri Lanka Mission in Abuja, which will be opened in the near future.
The contact details of the Nigerian High Commission in Colombo are:
Address : High Commission for the Federal of Republic of Nigeria
No. 03, Cosmos Avenue, Colombo 07
Tel : 011 2696342
e-mail : nigeriancolombo@msn.com
Ministry of External AffairsColombo
24th September 2012