No action against Sanga – Minister
Posted by Editor on October 2, 2011 - 1:18 pm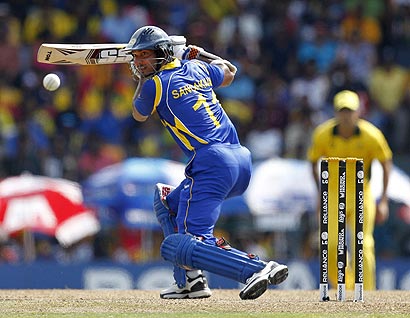 The sports minister in Sri Lanka says no action was taken against Kumar Sangakkara for his controversial 2011 Cowdrey Lecture that criticised corruption in cricket administration.
The minister has ordered the Sri Lanka Cricket (SLC) to submit a report after the widely hailed lecture delivered in London earlier this year.
Chairman of SLC, Upali Dharmadasa, earlier said that he would talk to Sangakkara after the series against Australia was over.
But the minister now says no such explanation was called from the former Sri Lanka cricket captain.
"There is no doubt that it was a great lecture," Minister Mahindananda Aluthgamage told BBC Sinhala service, Sandeshaya.
"Our concern was about the last part of his speech – that he should have done it in Sri Lanka not in England. However, we did not ask for explanation and no investigation was held," he added.
The minister also said that the head of the ministry's medical unit, Dr Geethanjana Mendis did not have any authority to allow any doctors or healers to national cricket players.
Dr Mendis has publicly admitted that he allowed Eliyantha White, who is not a registered doctor in Sri Lanka, to treat cricketers during the recently concluded World Cup.
Mr White, a healer who claims to be Sri Lanka president's personal physician, can only be contacted through the presidential secretariat.
"If Mr Eliyantha White is allowed to treat the cricketers, that should be done by the ministry but I do not know more details about it," Minister Aluthgamage told the BBC Sinhala service.
When contacted by the BBC, Dr Geethanjana Mendis, who was sacked by the minister as the head of the ministry's sports unit.
BBC
Latest Headlines in Sri Lanka