No alliance with UNP or UPFA – Anura Kumara Dissanayake
Posted by Editor on August 9, 2015 - 6:45 am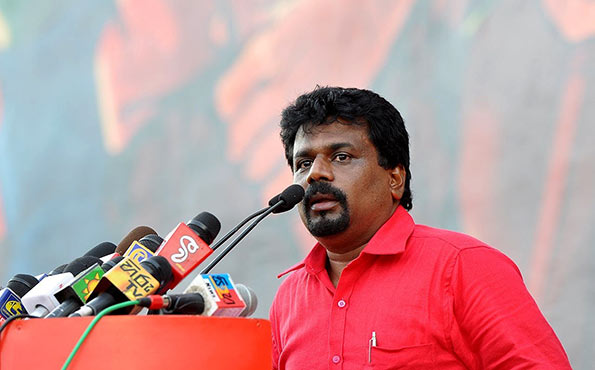 Janatha Vimukthi Peramuna (JVP) Leader Anura Kumara Dissanayake says that none of the two major political parties can get a majority in Parliament at the general election, but the JVP will not ally with either party to form a government.
Q: How is the JVP election campaign?
A: We have built a strong organizational network. We use the mainstream media as well as alternate media to take our message to the people. We have launched our programme to build the country. We are strong and many people speculate that the JVP will get good results. This is the strongest and most attractive election campaign of the party in recent times.
Q: You say the goods sold in your boutique are good while the goods in Wickremesinghe's and Rajapaksa's are rotten. Why is that?
A: People must not patronize their shops further. Mahinda Rajapaksa has proved his incapability in his nine-year rule. Ranil Wickremesinghe ruled the country for 26 months previously. He sold the Sri Lanka Insurance Corporation. It was later taken over under a Supreme Court order. The petroleum tankers which brought a lot of profit to the country were sold. They too were later taken over under a Supreme Court ruling. One third of Ceylon Petroleum Corporation was sold to IOC. The judiciary also confirmed that a fraud had taken place there.
A fraud in the issue of Treasury Bonds was exposed and President Maithripala Sirisena wanted the Governor of the Central Bank of Sri Lanka removed. Underworld thugs have been brought to the election campaign. Certain ministers threaten police officers and the blame is put on the policemen. Wickremesinghe has proved within this brief period that he is incapable of running the country. Both the political parties are now too old to function.
If you fix the UNP board at Darley Road you will see Keheliya Rambukwella, Johnston Fernando, Mahinda Samarasinghe, Niyomal Perera, and Susantha Punchinilame. If you fix the SLFP board near Sirikotha, you will see SLFP former treasurer S.B. Navinna, Vice Chairman Rajitha Senaratna, M.K.D.S. Gunawardena, and Hirunika Premachandra. Both name boards are alike. We need an alternative for the two parties. JVP is the only alternative.
Q: How many seats can the JVP win?
A: We are not overenthusiastic and we can see the results on 18 August. We anticipate good results.
Q: You do not agree with the national government concept. If the UNP fails to get a majority, will you support it? If you do not support, is it because you want to bring back Rajapaksa?
A: None of these parties can get a majority. They will join to form a government. They can do it as some of the MPs can be bought.
Q: What is the JVP's stand?
A: Our view is that the crisis of the country is the result of socio-economic and political setting. That framework has created the economic crisis, corruption, cultural destruction and disowning the democratic and basic rights. Both the UNP and SLFP governments are responsible for this setup. We are not ready to fall for it. We want an alternative framework. Therefore, any kind of government like the national government will take this socio-economic and political policy forward. However, the JVP is not ready to ally with any party.
Q: You were a member of the National Executive Council (NEC) which could not deliver the goods. As a member of the Council are you prepared to take the responsibility?
A: NEC can only make proposals but the government has to implement them. We have passed certain resolutions. The government must take the responsibility of implementing them.
On the other hand, Parliament was dissolved on 26 June. Then nominations were called for general elections. But the government had 100 days to implement the democratic, legal and constitutional reforms. We had a public responsibility to mediate as a member of NEC. However, we withdrew from it on 19 April. We tried to achieve the goals through NEC and we were able to get the 19th Amendment passed in a diluted form. We concluded discussions on the Right to Information Bill and National Audit Bill. We started a probe over corruption and fraud. The government had the responsibility of taking action on them. But the government was not ready to proceed with the social reforms we passed.
Q: The JVP urged the people to defeat Rajapaksa in the presidential election. Then you waited for six months. What have you done during that period?
A: We said that the Rajapaksa regime had stolen public assets and the thieves had to be punished. We promised to do our part and we actually did it. We have complained to FCID, CID and Bribery or Corruption Commission. We have lodged the highest number of complaints. We have given statements over some complaints and we have contributed to accelerate the probing process. But the final decision is in the hands of the President. Some sections come under the Prime Minister. The probes over the obvious cases could be completed. But they were swept under the carpet due to political influence. Some investigations have finished. The culprits must be arrested. But they enjoy immunity, thanks to the President and the Prime Minister.
Q: Do you mean the President also protects thieves like the former President?
A: Both the President and Prime Minister have undermined the investigations for their political needs.
Q: Why is the JVP silent on Wickremesinghe's Treasury Bond issue?
A: We spoke against Rajapaksa regime's crimes and corruptions. Journalists were killed, Media institutes were bombed. Public property worth billions of rupees was stolen. During Wickremesinghe's s brief rule, we spoke first against the Treasury Bond scam. I levelled the harshest criticism against him in Parliament. We are now revealing how they sold the Ceylon Petroleum Corporation, Sri Lanka Insurance Corporation and Marine Services. Our exposures may not fulfil the hopes of SLFP to attack Wickremesinghe and UNP to attack Rajapaksa. We are not their pawns.
Q: Somawansa Amarasinghe says you have a deal with Wickremesinghe. Is this true?
A: Many others have said it before Amarasinghe. Champika Ranawaka and Ven. Athuraliye RathanaThera repeated it when the 20th Amendment was under discussion. Finally, Ranawaka became a UNP candidate and Ven. RathanaThera is in the UNP national list. We are watching how political personalities try to put labels on us. Attempts to show us as a tail of UNP or a thread of Rajapaksa's shawl are futile. We have never crawled into any of those dens, but we have a political argument here. SLFP is deteriorating. SLFP voters are getting closer to JVP. They do not like to vote for UNP. Therefore, the Rajapaksa camp is afraid of their people voting for us. That is why they create stories about our allying with UNP. History will expose such politicians.
Q: Whose contract is Amarasinghe carrying out?
A: I don't know. You have to ask him.
Q: What is the Cabinet paper Amarasinghe showed to the media stating that you were the chief of a sub-committee?
A: We criticized the Cabinet paper. But I was actively involved in the corruption and fraud investigation process. That is why the investigations are moving forward to a certain extent. Does anybody say I should not get involved in it?
Q: Why doesn't JVP clarify its position over the Cabinet paper exposed by Amarasinghe?
A: We have no time to answer everybody who makes allegations against us. Our responsibility is not replying to allegations but to disseminate our opinion to society.
Q: Is this an attempt to evade the question?
A: In politics we have to pick and choose the questions before answering them. We have to ignore some questions. We have no time for other work if we continue to answer the questions put to us.
Q: TNA has proposed federalism in its Manifesto. Why is JVP not speaking about it? Is it because UNP wants TNA support?
A: It is not relevant to us. If UNP wants TNA, so be it. Some politicians market racism to gain power. We have exposed them.
In 1977, the Tamil United Liberation Front (TULF) urged people in the Northern Province to vote for them to win a separate state. The outcome of the racism they sowed was reaped not by them but by the poor people's children. Some spread racism in the South to gain power. Our stand is not attacking Sampanthan's racism while safeguarding that of Rajapaksa. We try to defeat all kinds of racism.
Q: Do you agree with the statement you claim that President Sirisena made to you to abolish the civic rights of the former President Rajapaksa?
A: Investigations must be carried out and due punishments should be given.
(Courtesy: Ceylon Today)
Latest Headlines in Sri Lanka