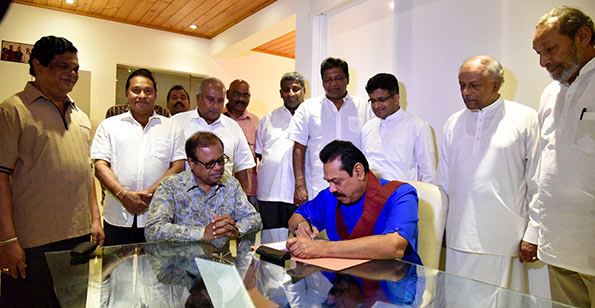 President Maithripala Sirisena who met civil society leaders that strongly backed his presidential bid in January at his residence on Wednesday night, said the final decision on granting nominations to his predecessor Mahinda Rajapaksa was not in his hands.
Leaders of civil society movements and trade union collectives were invited for talks with President Sirisena at 8.30 PM on Wednesday, where they expressed strong opposition to Rajapaksa being allowed to contest under the SLFP. "We informed the President that there was no people's mandate for a Maithri-Mahinda Government," Trade Union leader Saman Ratnapriya said.
The President had informed the group that he had no real control over deciding nominations, even though he was chairman of the UPFA, Ratnapriya said.
President Sirisena had claimed he was personally opposed to granting Rajapaksa the nomination, Ratnapriya told BBC Sinhala.
Civil society leaders including Dr. Gamini Viyangoda, who leads the Purawesi Balaya movement that strongly supported the Sirisena candidacy in January, told President Sirisena that his decision had the potential to put his supporters 'six feet under', Daily FT learns.
Meanwhile Ven. Maduluwawe Sobitha Thero, one of President Sirisena's key allies in his contest for the presidency refused to attend the meeting on Wednesday night.
Sobitha Thero who met President Sirisena last weekend, is reported to have told him in no uncertain terms that his decision was going to endanger the lives of all those who had worked towards his victory in the presidential poll earlier this year.
(Source: Daily FT – FT.LK)