'No foreign influences in drafting new constitution' – President emphasized
Posted by Editor on January 10, 2016 - 7:44 am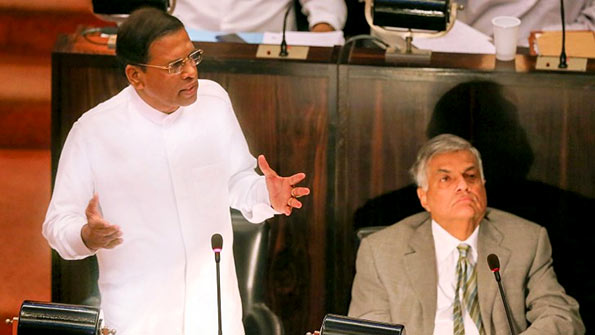 President Maithripala Sirisena says that there is no any foreign influence in formulating the new constitution and this will be done understanding the needs of the country, even though some extremists groups spread false rumors across the country that the Government is prepared to implement the new constitution under the foreign influences.
He made these remarks delivering a special statement on drafting a new constitution, at the Parliament, yesterday (09).
The intention of the government is to consider the ideas of all sections in the country including the scholars, intellectuals and Constitutional experts in drafting the new constitution, the President said.
He further said that depicting the new constitution, which is focused on the betterment of the country, as a Billa(evil ghost) is a great sin. He also said that it is necessary all of us to unite in formulating this new constitution towards building modern Sri Lankan State in the 21st century.
The President recalled that since the history whenever a government attempted to draft a new constitution a kind of unrest erupted within the country and he said even in today some sections of the society are trying to create unrest within the country to make the government discomfort.
It is the responsibility of everyone to unite keeping aside their narrow political agenda in this process for the betterment of the future generation.
The President questioned, if we want to protect the Executive Presidency on the basis of we were able to win the war, doesn't it mean that in the future there will be a possibility to erupt a war in the country?
He further said that we should not maintain the Executive Presidency to prevent the possibility of emerging a war in the future, but to create an environment to prevent recurrence of such a situation.
President Sirisena pointed out that we should not preserve the constitution as words on stone and changes should be made according to the aspirations of the people and it should be suitable for the modern technological world.
He also added that even though the laws and constitution is retain whatever mode the success of these aspects depends on characteristics of the people who are initiate these things.
(President's Media)
Latest Headlines in Sri Lanka