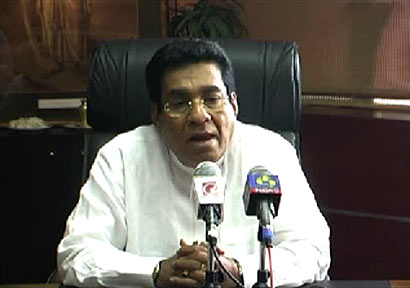 The man behind the white van culture was former Defence Secretary Gotabhaya Rajapaksa and the FCID had no backbone to investigate into the person who gave orders to the white van abductions, Former Minister Mervyn Silva said.
Speaking to the media yesterday he said without orders, nothing could have happened."The orders should have been given by the Defence Minister or the Defence Secretary" he said. "Gothabaya Rajapaksa should also be held accountable for the Welikada Prison riot of 2012," he said.
"If anyone had connections with the underworld he had been killed and no Police inquiry was held for that," he said. "Police have to conduct investigations. No politician has the authority to kill people.
Former Economic Development Minister Basil Rajapaksa used Government assets for his personnel use.
Gothabaya Rajapaksa should be held accountable for disappearances overriding his Ministerial authority, not the officials," Mervyn Silva said.
"Prime Minister Ranil Wickremesinghe along with the United National Party (UNP) was the only person who can rule this country, other than the Bandaranaikes, Rajapaksas and Sirisenas," Former Minister Mervyn Silva said. "President Maithripala Sirisena should be thankful to Premier Wickremesinghe and the UNP for his Presidency.
"Therefore, Premier Wickremesinghe was the only suitable candidate to contest at the upcoming Presidential Election. This Government started with a false unity.
This coalition was highlighted because of the dead-rope given by former President Chandrika Bandaranaike Kumaratunga.
Reconciliation was created when King Wijeya married Kuweni, not because of Chandrika. Her reconciliation was to divide the country and satisfy individual parties," he said.
(Source: Daily Mirror – By Chaturanga Samarawickrama and Indika Sri Aravinda)