Office on Missing Persons becomes operational
Posted by Editor on March 14, 2018 - 8:40 am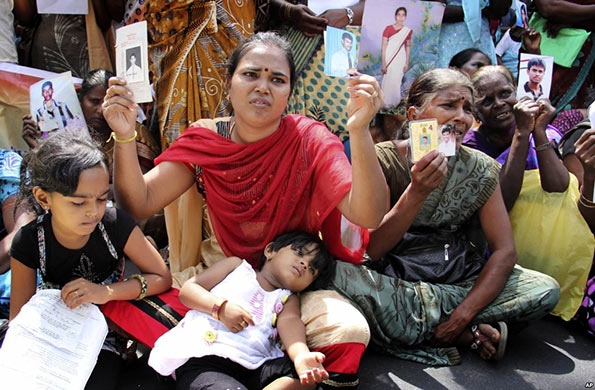 Sri Lanka has operationalised the Office on Missing Persons, an special office set up for determining the status of all persons who went "missing" during the war against the LTTE.
The Office of Missing Persons (OMP) aims to bring in reparations to the victims of the nearly three-decade long armed conflict in the country.
"The Office on Missing Persons has officially got underway," an official release said.
President Maithripala Sirisena appointed seven members and the Chairperson of the OMP on February 28.
"The main purpose of the OMP is to address the suffering of thousands of families living in all parts of the country whose loved ones have gone missing or disappeared during multiple conflicts in Sri Lanka," the release said.
The OMP will search and trace missing persons, clarify the circumstances in which they have gone missing and their fate, make recommendations towards addressing incidents of missing persons, protect the rights and interests of missing persons among others.
It will also make recommendations to the authorities concerned to prevent the recurrence of such incidents.
The OMP said its seven members represented a cross-section of society, having experience in the field of human rights as activists, public servants and professionals.
"We are deeply committed to the welfare of all the victims of Sri Lanka's conflicts and we are conscious of the duties entrusted to us by Parliament. We are also mindful of the need to perform our functions impartially and objectively. Moreover, our obligations to the disappeared, the missing and their families are paramount in this endeavour," it said.
The statement issued by the Chairman of the Office said that the establishment of such a mechanism is long overdue.
"We recognize that the establishment of such a mechanism is long overdue. The families of the disappeared and of the missing have suffered the tragic loss of their loved ones. Many of these families have waited years, if not decades, for answers as to whether their loved ones are alive or dead."
"This long wait has deepened their anguish, frustration and trauma. In what we hope is a shared vision for lasting peace and co-existence, we invite the people of Sri Lanka to provide us the strength and support required to achieve the objectives of the OMP Act."
(PTI)
Latest Headlines in Sri Lanka