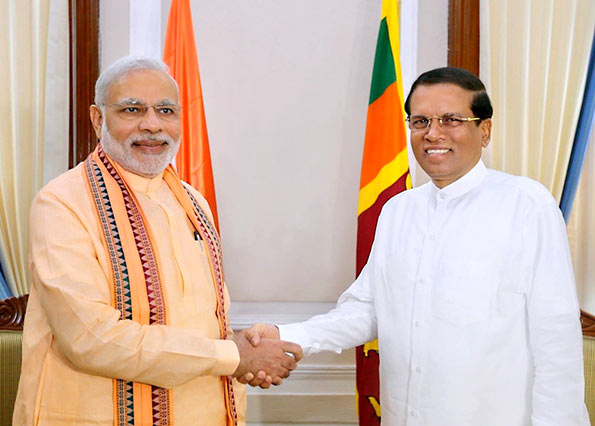 Indian Prime Minister Narendra Modi, who is on a state visit, announced a special gesture of on arrival visas to Sri Lankans visiting India as a step to enhance people-to-people contacts. He said that the new visa system will come into effect on April 14, 2015, as a gift on the important occasion of Sinhala and Tamil New Year, which is also the birthday of the great Indian Buddhist leader Dr Ambedkar.
After bilateral discussions between India and Sri Lanka, Mr Modi announced that the Reserve Bank of India will enter into an agreement with the Central Bank of Sri Lanka to establish a currency swap worth US $ 1.5 billion to ensure stability of the Sri Lankan Rupee.
Mr Modi announced a US$ 318 Million credit line to assist development of the Sri Lanka Railways. India will provide rolling stock, develop existing rail tracks and provide other requirements of the railways.
The Indian Prime Minister emphasized that the Indian Ocean does not divide India and Sri Lanka, but unites the two countries. "Maritime security is important not only in this region but in other parts of the world too. The issue of protecting the oceans and the maritime areas of the related countries is common to Sri Lanka, India, Mauritius, Seychelles and the Maldives and all should be alive to the important issue of regional maritime security," Mr. Modi said.
He added that the space security will also become extremely important and these countries should have a common approach on this as well.
The Indian Premier expressed appreciation of the steps taken by the Sri Lanka government to bring about national unity in Sri Lanka. The Indian Government and people prioritize Sri Lanka's interest in national unity, he said. "When a neighbor becomes stronger, we are also strengthened. That is our hope," he added.
He appreciated President Sirisena's actions towards building unity in Sri Lanka, achieving a high level of confidence in a very short time. The steps taken include the initiatives such as giving back land to the people, transfer of governors and officials as required, the release of prisoners and other acts which are highly appreciative, he said.
Mr. Modi said that he would expect the country to be stronger after the forthcoming elections having better relations with India.
"India will never allow any activities against Sri Lanka to be done in our territory," Mr Modi declared, and called on Sri Lanka to inform India of any such activities, and expressed India's readiness to share information on such matters. Responding to President Maithripala Sirisena's request for increased training of Sri Lankan defence personnel, the India Prime Minister readily agreed to increase the intake of Sri Lanka soldiers and other services personnel, He also agreed to provide technological services and intelligence sharing of defence matters.
In the bilateral discussions, two sides also discussed Indian assistance to build houses for displaced persons as well as the plantation sector and to improve urban housing. In the health sector, there would be cooperation in ensuring Sri Lanka of a regular supply of allopathic drugs with the Indian health authorities recommending suppliers of good quality drugs and taking steps to avoid delays.
Two countries agreed to look into short term and long term steps required to solve the fishermen issue. Prime Minister Modi asked Sri Lanka to see this as a humanitarian problem and look at it sympathetically. Sri Lankan side emphasized the need to prevent bottom trawlers being brought to Sri Lankan waters. There was agreement to hold further discussions on this matter.
(President Media)