ONLY I CAN SAVE WAR HEROES FROM WAR CRIME CHARGES NOT THE CARDBOARD PATRIOTS – FONSEKA
Posted by Editor on April 21, 2011 - 12:26 pm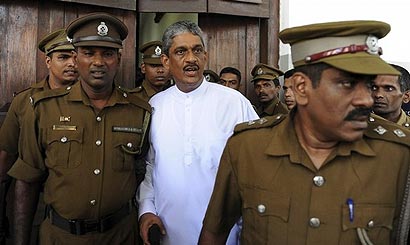 The case pertaining to the white flag incident which has been filed against the former Army Commander Sarath Fonseka was called up before the Colombo High Court today (20).
Submitting evidence for the defence was due to commence today (20).
However, counsel for the defence, Nalin Laduwahetti requested the three judge bench to postpone the case.
Laduwahetti made this request as the statement of the defence must be prepared according to the present situation that has arisen both in the domestic and international spheres.
However the defence counsel informed the court that statement of the defence has already been prepared.
Deputy Solicitor General Buwaneka Aluwihare, the counsel for the prosecution said that he does not object to the request made by the defence.
Meanwhile, Parliamentarian Anura Kumara Dissanayake, Registrar of the Colombo High Court, Secretary of the Department of National Archives and the Convenor of the Press Complaints Commission were summoned to court today (20) to provide evidence for the defence.
As Raiza Wickrematunga of the Sunday Leader Newspaper who was summoned to provide evidence for the defence, was not present in court today (20), a court ordered notice to be issued on her.
After considering the facts, court postponed the case until the 4th of May.
"It is only I who led the war that can save the war heroes from war crime charges. Cardboard patriots can't do that."
"Dictators who said that they will go to the electric chair for their countries, are sending the people of Tunisia and Libya to the electric chairs. The cardboard patriots in this country will one day send the people to electric chair" said the former Army Commander Sarath Fonseka while walking out from the court.
Courtesy: News First
Latest Headlines in Sri Lanka