Over 100 Kg of heroin seized; Street value put at Rs. 1 billion
Posted by Editor on August 31, 2013 - 7:09 am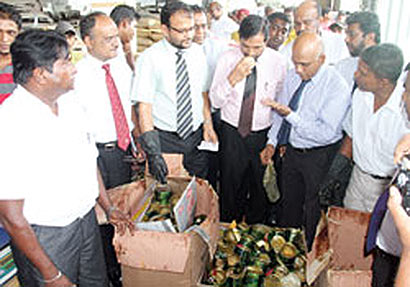 A massive haul of heroin, weighing more than 100 kilos, was discovered inside a 40-foot container at the Rank Container Terminal in Orugodawatta.
The haul, with a street value of over Rs. 1,000 million was the biggest ever in the history of Sri Lanka, Customs Revenue Task Force Director Mali Piyasena, told The Island. He said they had also arrested the Sri Lankan importer from Maligawatta, when he arrived to clear the container after paying the tax and a Pakistan national who had exported the container from Pakistan.
The container had reached the country on June 3 and was declared as containing grease, but the customs had waited patiently until the local importer came to clear it. The heroin had been hidden inside grease packs.
The investigations were being carried out to ascertain the exact amount of the heroin hidden. Meanwhile, in a media release, police spokesman Superintendent Buddhika Siriwardana said that the haul of heroin found hidden in the container was the result of two months surveillance by the Police Narcotics Bureau. The PNB had been on the lookout for the suspected container after they received information regarding it from a suspect arrested earlier.
A high ranking PNB officer said that both the heroin exporter and the importer were businessmen engaged in imports and exports.
"This is the tip of an ice burg and we would arrest the other suspects involved in the illegal business in the end," the officer said.
(Courtesy: The Island)
Latest Headlines in Sri Lanka