Pavement hawkers granted permission on cross streets
Posted by Editor on June 24, 2015 - 7:45 am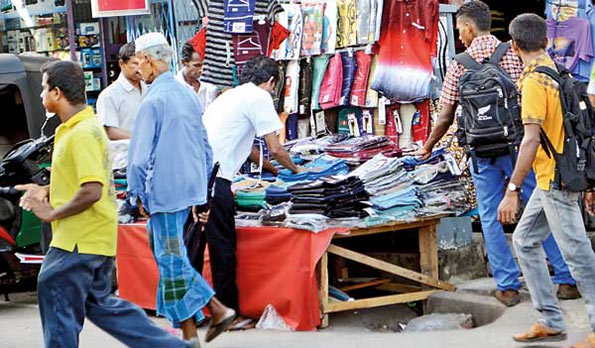 There are mixed reactions over the decision to allow pavement hawkers to conduct business on the streets of Colombo. The Rajapaksa regime under the Colombo City Beautification Programme prohibited them from doing business on the pavements, which resulted in a great loss to them.
Media reports said that doing away with the ban, Colombo Mayor A.J.M. Muzammil decided to allow small time traders to conduct their business on the pavement.
As there was uneasy feeling of the general public, the Daily News inquired from Mayor of Colombo A.J.M. Muzammil whether the hawkers will be permitted to return to the pavements as they did in the past.
Mayor Muzammil said that hawkers would not be allowed to do business on the main streets of Colombo, but,they have been granted permission to have their stalls in the cross streets as a temporary measure.
The Colombo Mayor noted that nearly 1,600 people who have stalls at Bodhiraja Mawatha and 5th Cross Street have either rented out or sold there stalls. The people who were given shops are not there now. They do not even pay any rent to the Municipal Council.
"The people who have rented out the stalls provided to them are also doing business on the streets. There was political pressure. Politicians are trying to gain the upper hand without knowing the ground situation," he said.
(Daily News / Pix by Daily Mirror)
Latest Headlines in Sri Lanka