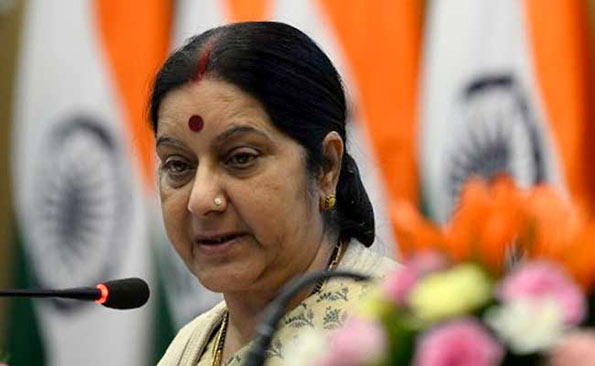 At the first-ever conference of sitting Indian origin MPs representing 23 countries across the world, a disquiet on the rising incidences of intolerance and hostility towards religious minorities in their ancestral land was palpable. While some expressed their concerns subtly at the stage reminding others of the values of pluralism and India's cultural synthesis, a group of MPs from South Africa and Tanzania reportedly raised the issue during their private meeting with External Affairs Minister Sushma Swaraj. They felt that reports of cow vigilantism and open promotion of Hindu nationalism by the ruling party were taking its toll on their spaces in their homelands, as they were also living there as religious and/or ethnic minorities.
A group of Sri Lankan MPs had a different complaint. Their grouse was that Government of India had a different yardstick for issuing Oversees Citizenship of India (OCI) cards to people residing in the US, Africa, Australia, and European countries, and for those claiming Indian ancestry in Sri Lanka. "We are Tamils and were transported to Sri Lanka centuries back to work in tea gardens. We are proud of our Indian lineage. But when we apply for OCI or PIO card as Indian origin people residing in other countries do, the High Commission in Colombo asks for streams of documents which are almost impossible to produce," A Arvindh Kumar, an MP from Sri Lanka told DNA.
"I can produce birth certificate of my father or upto grandfather, to dig out documents of ancestors and proof of working on tea gardens, is almost impossible," he said, pleading that procedures for Sri Lanka citizens of Indian origin should be made similar to those of living in Europe or other continents.
The shock for Swaraj was, however, reserved when after the inaugural address, she decided to meet delegations in batches privately to listen to their feedbacks. An MP of Gujarat descent from Tanzania reportedly enquired steps the government was taking to protect minorities in India. He referred to killing of cow traders in the last few years as well as the creeping insecurity among minority communities. Some MPs from South Africa also raised the issue. Tanzanian MPs, both Hindus and Muslims, said they were also in minority in their country. "We read in media that high-level government officials are making statements that are spiteful to minorities. And at many places they are encouraging vigilantes to attack members of minority communities engaged in the cattle trade," said the MP. He further added that such acts restrict our initiatives to project India a democratic, multi-cultural, pleuritic and a tolerant society.
Lord Ranbir Singh Suri, representing Conservative Party in the UK House of Lords said India's democracy and adhering to liberal values are its biggest strengths. "We have been telling Europeans to learn from India how to live in a multi-ethnic, multi-religious society peacefully. But the reports of killings here and there, though aberrations crate a bad impression," he added. He, however, praised Modi government, saying he has put India on a right track of progress. Originally born in Rawalpindi, he is perhaps the only MP, in the list of Pakistan's people of origin list as well. "I had to attend a similar conference some months ago in Islamabad, but that was postponed, because of political turmoil there," he said. Though, I had gone to UK from India in 1971, but my ancestors lived in Rawalpindi so I claim both countries and want them to live peacefully.
Swaraj, who was reportedly taken a back initially gave a detailed briefing to these groups denying any bias or rising insecurity against minority community in India. She called such incidents an exaggeration. The minister also counted a number of initiatives launched by the government for the welfare of minority community. She quoted PM Modi's speech, which mentioned that India's message of Sarba Dharma Samabhaba (religious harmony) was an answer to the growing radicalism and extremism in the world.
(DNA India)