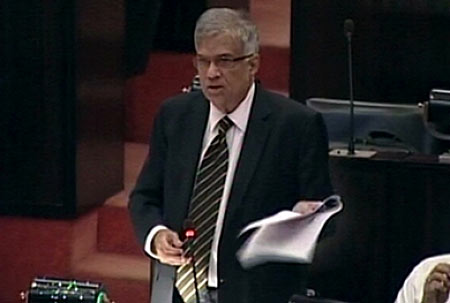 Prime Minister Ranil Wickremeinghe informed Parliament yesterday that the Comprehensive Economic Partnership Agreement (CEPA) will not be signed with India and that only an economic and technological cooperation agreement, which excludes provisions for Indian professionals to work in the island, would be entered into.
The Premier, making a special statement in the House, said that the government had told India that Sri Lanka was not willing to incorporate the services sector as part of the trade and technological agreements to be signed with India, adding that India had agreed to these terms.
"We have scrapped the clause that allows Indian professionals to be employed in the services sector of our economy and we have informed India of this and they in turn have agreed to our terms," he said.
He added that the consent of all political parties and Trade Unions for the pact was of utmost importance and suggestions and proposals by these groups would be included in the agreement with India as well.
The Premier revealed that similar agreements would be entered into with China and Singapore too in the future.
(Source: Ceylon Today)