We are stemming casino concept in Sri Lanka – Ravi
Posted by Editor on December 10, 2015 - 9:31 am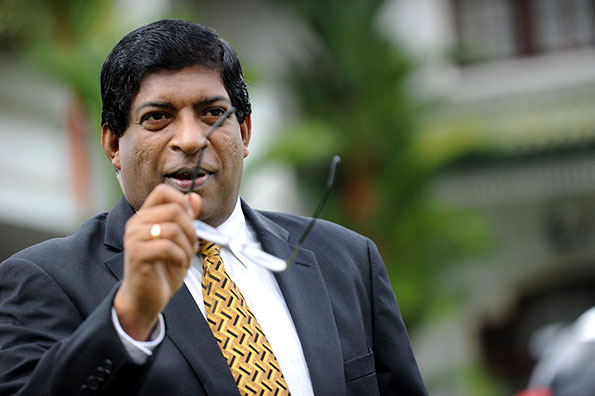 Finance minister Ravi Karunanayake says that the 25% tax surcharge on profits of casinos and gaming companies and the doubling of the annual levy on gaming businesses, as proposed in the 2016 budget, is the government's way of "snubbing" the casino concept in Sri Lanka.
In an interview with the Nikkei Asian Review, Finance Minister Ravi Karunanayake said the budget for the fiscal year starting April 1 had received a "very positive" response from foreign investors and the international community, in spite of a forecast deficit of 740 billion Sri Lankan rupees ($5.2 billion), equivalent to 5.9% of gross domestic product.
"This is a one-year plan, and it will kick-start Sri Lanka's revival," Karunanayake said at his office in Colombo. He also called the budget "progressive, inclusive and people friendly."
The budget includes an increase in tax-free allowances, cuts in fuel and food prices, the removal of restrictions on foreign land ownership and the relaxation of foreign exchange controls to boost foreign direct investment. The government is also looking at implementing a system to shorten the foreign investment approval process to roughly 51 days from the current 220 days.
The gambling industry was a big loser, with casinos and gaming companies facing a 25% tax surcharge on profits, while an annual levy on gaming businesses was doubled to 400 million rupees. "This is our way of snubbing the casino concept in Sri Lanka," Karunanayake said. "We are stemming this and not encouraging casinos in the country." The administration earlier halted plans advanced under Mahinda Rajapaksa, the previous president, to support the development of new casino hotels in the capital.
The government expects to collect 2.05 trillion rupees in revenue, of which around 65% is expected to come from taxes on tobacco, alcohol, gaming and services. It expects to spend 2.79 trillion rupees. The shortfall will be met by borrowing 557 billion rupees domestically and 183 billion rupees on international markets.
"We are seeking the support of funding agencies such as the World Bank, [the] Asian Development Bank and the International Monetary Fund to get things moving," Karunanayake said. "We have emphasized to them that we are very different to the previous government, as they were just rhetoric, and did not act. Some of [the agencies] have responded to our requests positively, some others are still considering our requests."
The finance minister is also considering how to encourage Sri Lankans to bring back funds deposited in foreign accounts, including Swiss banks, with a promise that no questions will be asked. Karunanayake, who hopes to bring in supporting legislation by March, expects the move to add $2 billion to $3 billion to the country's foreign reserves within six months. "When they can have their own money in Sri Lanka, why go anywhere else?" he said.
Karunanayake said companies from Japan, China, South Korea and India have plans for investment in pharmaceuticals, petroleum, software, textiles, hotels and business process outsourcing. "They have already confirmed and we expect these investments to start rolling out from January," he said.
Elaborating on the government's foreign policy, which is shifting from Rajapaksa's focus on China, Karunanayake said: "Both Japan and China are very, very important to us, but we will embrace anyone on a very open basis because all our dealings are transparent.
Karunanayake said companies from Japan, South Korea and China had shown interest in developing a subway system in Colombo. Nothing has been finalized, but the government has earmarked 658 billion rupees for infrastructure.
Commenting on the budget deficit, the finance minister said: "This is going to be entirely on our hands now, and we can't blame the past regime, but we are positive about reducing the deficit in the future." Karunanayake said the government would be focused on balancing the books, eradicating corruption and implementing a management-oriented information system.
Source: Nikkei Asian Review
-Agencies
Latest Headlines in Sri Lanka