PM promises to sack cops if found guilty of attacking disabled war heroes
Posted by Editor on November 12, 2016 - 9:25 am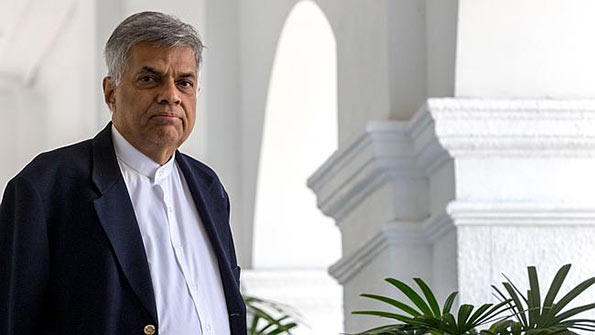 Prime Minister Ranil Wickremesinghe told Parliament yesterday that if any policemen were found guilty of attacking disabled servicemen near the Presidential Secretariat last week they would be sacked from the service.
Prime Minister Wickremesinghe said so responding to a query raised by MEP leader Dinesh Gunawardena, who accused the government of setting police anti-riot squads on disabled military and police personnel demanding their pension rights.
Prime Minister Wickremesinghe: "I will investigate this incident separately.
There was a discussion on the demands of ex-servicemen at the Ministry of Defence. We have to investigate to find how this incident took place after all the demands by the servicemen had been granted. We also have to find out how disabled bhikkus were present there. How did those bhikkus become disabled? Police personnel, if found guilty of harassing disabled protesters will be removed.
"I like to ask where these bhikkus were when General Sarath Fonseka was incarcerated. We'll have to sack those who jailed Fonseka."
MEP leader Gunawardena: Bhikkus visited Sarath Fonseka when he was in jail. How many times Ven Maduluwawe Sobhitha visited him? We ask the Prime Minister whether he would admit that it was wrong to assault disabled soldiers.
Prime Minister: Assaulting the disabled is wrong. It is also wrong to instigate the disabled and create disturbances. I did not talk of Ven Sobhitha Thera. I was talking of the bhikkus who were present there on that day when the incident occurred.  Ven Sobhitha Thera conducted a religious ceremony opposite the Dalada Maligawa. I can recall some people attempted create a division among the Maha Sangha's of Malwatte Chapter.
NFF leader Wimal Weerawansa: Bhikkus can participate in events. Bhikkus even marched along with King Dutta Gamani when he went to war against King Elara. The Prime Minister should not talk as if he were unaware of facts. Members of Maha Sangha have always been with the war heroes. The problem is that we are having a prime minister who does not know about it.
Prime Minister Wickremesinghe: King Dutta Gamani never entered into a deal with Prabhakaran to ascend the throne of Magama.
(Source: The Island – By Saman Indrajith)
Latest Headlines in Sri Lanka