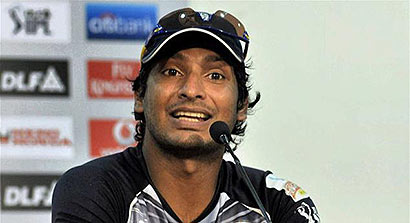 Hyderabad: Sunrisers Hyderabad skipper Kumar Sangakkara feels keeping the Sri Lankan players out of the Chennai matches in the sixth edition of the Indian Premier League is not going to "curtail" the spirit of the game. Bowing to intense political pressure, the IPL governing council last week withdrew top Sri Lankan players from all the Chennai matches of the high-profile IPL after Tamil Nadu chief minister Jayalalithaa refused to host them in view of the prevailing anti-Sinhalese sentiments in the state.
"Politics in this case has affected/restricted our presence, our belief to play in every part of India. But I don't think, sports and spirit of cricket is ever going to be curtailed by such prejudice," he said on the sidelines of an event here.
The Lankan great was reacting to a query if politics has affected the participation of Sri Lankan players in Chennai. "The build-up has been different and difficult for Sri Lankan players. But at the end of the day, they are here to play IPL. The Sri Lankan Cricket Board has made it clear that no Sri Lankan players will be [playing] in Chennai," Sangakkara said.
He pointed out that "India is much more than Chennai and Tamil Nadu, and I think the rest of India has been very welcoming of us. We are here to play cricket representing Sri Lanka and also on behalf of our franchisee."
Reacting to another query, over former captain Arjuna Ranatunga's comment asking the Sri Lankan players to opt out of the tournament over the matter, Sangakkara said, "It's been a divisive issue back home as well. But this is not a nation-vs-nation issue. It's only a state… and I don't think it is the entire state [Tamil Nadu]. So we got to put it in right perspective."
He further said, "Foreign policies are not going to be dictated by that and had it been a nation-vs-nation issue, then Sri Lankan players would not have been here." (IBN Live)