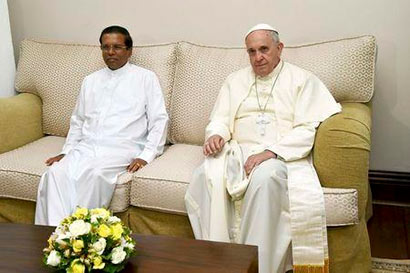 Pope Francis will give Sri Lanka its first Catholic saint on Wednesday, ending a 300-year campaign to recognise the sanctity of an Indian-born missionary who was captured as a suspected spy after he crept into the tropical island in disguise.
Joseph Vaz was born in 1651 in India's Goa, then a Portuguese colony. He travelled south at the age of 36, dressed as a poor labourer, to a country then known as Ceylon after hearing about the persecution of Catholics by the Dutch.
"He revived the faith of our people," said Sri Lanka's Bishop Raymond Wickramasinghe of Galle.
The canonisation is an example of Francis's no-nonsense approach to creating saints to meet the demands of the flock for new holy figures. Some say Vaz does not technically qualify because the Church has not attributed two miracles to him.
The ceremony will take place in a park on the Colombo seafront, where crowds of faithful began gathering late on Tuesday to witness one of the headline events of the Pope's two-day visit.
On Monday, Francis called on Buddhist-majority Sri Lanka to uncover the truth about its long civil war between mainly Hindu Tamils and the mostly Buddhist Sinhalese and bring religious communities closer together.
He moves on to the Philippines on Thursday as part of a week-long tour, his second trip to Asia, to shore up the Church's presence in developing nations.
Today, Catholics make up about 7 percent of Sri Lanka's population, while 10 times as many follow Buddhism.
Vaz spent five years secretly preaching in the lush lowlands before making his way to the Kingdom of Kandy in the highland rainforests, where he was captured and accused of espionage for Portugal under the guise of religion.
He was detained for nearly a year until he convinced the powerful Buddhist king that he was a priest, according to texts from the 17th century cited on a website run by Sri Lankan Catholics (www.josephnaikvaz.org).
King Vimaladharmasuriya II protected him from the Dutch and Vaz's reputation was further bolstered when he was said to have made rain during a drought.
"He was able to win the hearts of the Buddhist kings of the time and worked very closely with the Buddhist monks then, he was very well respected," said Wickramasinghe. Vaz remained in Kandy until his death aged 60 in 1711, by which time the Church says he had converted 30,000 people and created a network of priests, almost single-handedly re-establishing Catholicism in Ceylon.
Some Sri Lankan nationalists highlight the violence of the Church's early years and say it led to the destruction of many Buddhist temples.
"The Church is legally responsible," said Susantha Goonatilake, president of the Royal Asiatic Society of Sri Lanka, who says Francis should offer an apology.
(Reuters)