Pothas says too many cooks in cricket
Posted by Editor on August 22, 2017 - 10:46 am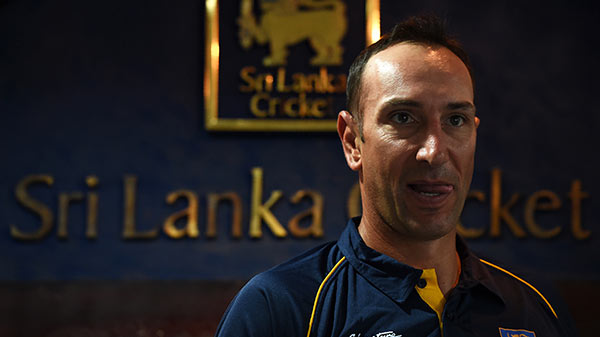 After Sri Lanka suffered a humiliating nine wicket defeat at the hands of India in the opening ODI of the five match series, Interim Coach Nic Pothas shed some light into the current crisis of the national team when he said there are too many cooks involved within the set up. The main reason respected former Head Coach Graham Ford left the job was that some of his responsibilities were deviated to the newly created position of Cricket Manager, a role filled by former Test cricketer Asanka Gurusinha.
However, the trend seem to be deviating further as for the ODI leg of India's tour Chief Selector Sanath Jayasuriya was handed full powers on selection matters after some blunders during the Test series where the captain, coach and cricket manager had a larger saying.
After India went 1-0 up in the series wrapping up the game with 21 overs to spare, Pothas expressed the team's frustration.
"It swings between hurt and embarrassment. Emotionally you get angry. You get frustrated. Am I angry with the players? Absolutely not. The players work as hard as anyone can ask of them. They've been superb. Support staff have been out of this world. Brilliant. They work endless hours with planning and helping the boys. You can't fault anyone within that changing room," Pothas said.
"Yes, we didn't play our best cricket today. That's pretty obvious. You do get angry. To say "too many cooks" is probably accurate," he added.
This year Sri Lankan cricket has suffered many setbacks having been white washed in South Africa and losing a first ever home Test match to Bangladesh.
Sri Lanka also lost a first ever ODI series to Zimbabwe before being whitewashed by India in the three match Test series. Pothas was asked as to when the team's struggles would end.
"If it was up to me and we had control over what we did, then we could probably give you a timeline. It's a question you probably need to ask a few other people as well. For me, if we were left alone and you could work with this group of players, you could get some stability and consistency over a period of six months. You'd see massive improvements. These are seriously gifted players. They are very, very gifted players. You give them a little bit of time – you give them a little bit of love, a little bit of care, and build up that confidence, you'll see results quick," Pothas added.
(Source: The Island – By Rex Clementine)
Latest Headlines in Sri Lanka