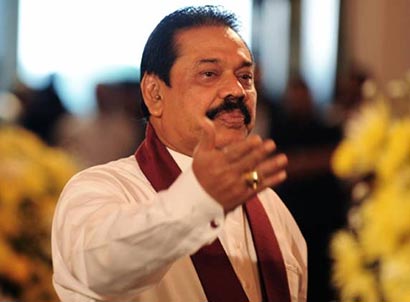 President Mahinda Rajapaksa today announced that Sri Lanka will be providing US$ 1 million in financial assistance to Palestine.
President Rajapaksa has been a long-time supporter of the Palestinian cause and is the Founder President of the Sri Lanka Committee for Solidarity with Palestine.
During this year's Eid Festival Week, the President expressed concern for the violence in Gaza.
"It is my hope that the violence in Gaza is halted and peace prevails in the region," President Rajapaksa said on his Twitter account.
Earlier in July, the President also called Palestinian President Mahmoud Abbas to inquire about the situation in Gaza and offered his condolences to lives that have been lost.
In January of this year, President Rajapaksa made his first visit to Palestine on his tour of the region that also included Jordan and Israel. During that visit, the Government of Palestine conferred President Rajapaksa with the "Star of Palestine" – the highest award of the State of Palestine – for the President's continued support and commitment to the Palestinian cause.
Sri Lanka recognised Palestine as a state in 1988.
(President Media)