President assures development benefits to all
Posted by Editor on September 26, 2012 - 11:13 am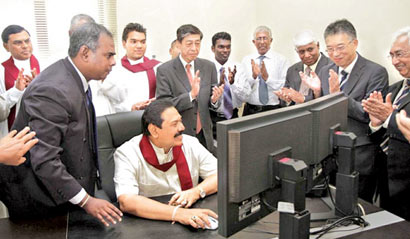 President Mahinda Rajapakse emphasized that all Sri Lankans will be treated alike whether they live in the South, the North, or in the East or the West, as all are Sri Lankans.  He said that benefits of the development should be passed on to everyone without any kind of discrimination.
The President made these comments participating in the ceremony held at the Wellamuliwaikkal to mark the successful completion of the resettlement of IDPs saved from the clutches of the tiger terrorists from being held as human shields.
Speaking further at the function the President said that everyone in the country should work hard not only for their personal welfare or for the welfare of their families, but also for the well being of the future generation. He also said that people should not fall prey to false propaganda being spread by unscrupulous elements.
The President attended several functions in the Kilinochchi and Mulathivu districts yesterday. He commissioned the Vavuniya-Kilinochchi grid which connected the Northern Province with the national grid after 25 years and marked the historical occasion of brining whole Sri Lanka under one electricity network.  125 thousand families in the north will get benefited from the power supply commissioned by the President yesterday.  This project was implemented at a cost of Rs. 3200 million.
The President also attended progress review meeting of the Kilinochchi and Mullativu districts. The Meeting reviewed on the progress of projects being implemented, being planned and other requirements in the two districts which was inhumanly devastated by the terrorists when they occupied the areas.
Ministers Basil Rajapaksa, Douglas Devananda, Patali Champika Ranawaka, Rishard Bathiiuddeen, and Parliamentarian Namal Rajapaksa attended these functions.
Source: Government News Portal
Latest Headlines in Sri Lanka