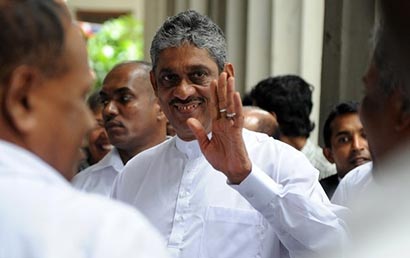 The Attorney General yesterday indicted in the Colombo High Court three LTTE cadres for the attempted murder of General Sarath Fonseka, in collaboration with LTTE suicide bomber. Altogether 23 charges were filed, including the major charges of attempted murder, and aiding and abetting in the same offence.
The offence was committed between January 1 and April 25, 2006, at the Army Headquarters, Colombo. The General had been followed by the suicide cadre at several places for some time prior to the attack. In the bomb blast General Fonseka suffered severe injuries. Ten army personnel were killed, while twenty eight other persons including army officers were injured.
The accused are Selvarasah Thinabakaran alias Aliar Mohammed Nistar, Shanmuganlingam Sooriyakumaran and Thambiah Prakash.
Around 105 witnesses have been listed to give evidence.
Courtesy: The Island