President Declares Open Sri Lankan High Commission in Seychelles
Posted by Editor on June 29, 2014 - 8:14 pm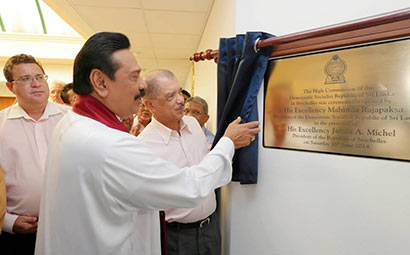 President Mahinda Rajapaksa, on a state visit to Seychelles, declared open the Sri Lankan High Commission in Seychelles yesterday (June 28) afternoon. The High Commission is located at the Capital City Building in Independence Avenue, Victoria.
Sri Lanka and Seychelles established formal diplomatic relations in 1988. The first resident mission office that was opened today was set up in December 2013. Mr. Rajatha Piyatissa has been appointed Sri Lanka's first High Commissioner in Seychelles. Marking the official opening of the Mission, President Rajapaksa unveiled the plaque and lighted the traditional oil lamp.
Seychelles President James Michel, Vice President Mr. Danny Faure, Minister for Community Development, Social Affairs and Sports of Seychelles Mr. Vincent Meriton and the Leader of the Opposition Mr. Wavel Ramkalawan participated in the ceremony. The two Presidents signed the visitor's book.
Minister of External Affairs Prof. G. L. Peiris, addressing the gathering, said establishing and renewing relations with African nations including Seychelles has been included as a primary component in the Mahinda Chinthana Forward Vision. While thanking the Seychelles leader for donating a valuable plot of land from the capital for a permanent office, Prof. Peiris said President Rajapaksa has decided to allocate a suitable land from the capital to open the Seychelles High Commission in Sri Lanka.
Opening of the High Commission is a landmark in the bilateral relations between the two countries, Mr. Meriton said. Enhancing bilateral relations between our two countries will not only be beneficial to the peoples of the two countries but also for global peace and prosperity. He requested Sri Lanka's assistance for Seychelles for a non-permanent membership at the U.N. Security Council. Seychelles will be a gateway for Sri Lanka to enter the African region, and Sri Lanka will be a gateway for Seychelles to enter Asia, he said.
Minister of Higher Education Mr. S.B. Dissanayake, Monitoring MP of the Ministry of External Affairs Mr. Sajin de Vass Gunawardena, Members of Parliament Mr. A.H.M. Azwar, Mr. Lohan Ratwatta, Mr. Udith Lokubandara, Mr. Ranjith de Zoysa and Mr. Thenuka Vidanagamag, Secretary to the President Mr. Lalith Weeratunga and Sri Lanka's High Commissioner in Seychelles Mr. Rajatha Piyatissa were also present.
(President Media)
Latest Headlines in Sri Lanka