President meets Indian Minister: India gives $ 416 m for Northern Railway
Posted by Editor on November 27, 2010 - 7:13 am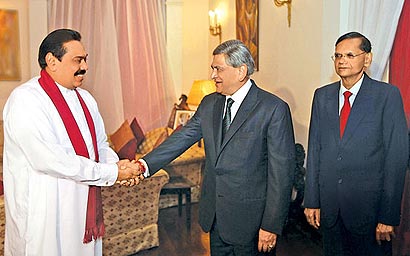 A Credit Agreement for USD 416 million for the construction of the Northern Railway line was signed between India and Sri Lanka at Janadipathi Mandiraya yesterday, in the presence of President Mahinda Rajapaksa and India's External Affairs Minister S M Krishna.
Exim Bank of India Managing Director Nadeem Panjetan signed the agreement for the Indian side while Treasury Secretary P B Jayasundara signed for the Sri Lankan side. This is the first state visit from a Foreign Minister since the inauguration of the President's second term of office.
The construction of the railway line will be carried out in three segments, from Madhu to Talaimannar, Medawachchiya to Madhu and Omantai to Palaly.
Letters were also exchanged between Treasury Secretary P B Jayasundara and Indian High Commissioner, Ashok Kantha for the first phase of the 50,000 housing project for the IDPs funded by India, after the meeting between the President and the Indian Minister.
Initially 1000 houses will be constructed in a cluster format on land given by the Sri Lanka government.
The meeting between President Rajapaksa and the Indian External Affairs Minister was cordial and friendly where Minister Krishna felicitated the President on his assumption of duties for the second term.
It was decided that Kapilawasthu relics will be brought from India to Sri Lanka next May for the 2600 Sambudda Jayanthi celebrations.
The discussion was mainly based on the follow up of the Joint Declaration between India and Sri Lanka when President Rajapaksa visited India in June this year, which the Indian Minister termed as a landmark visit.
President Rajapaksa informed the Indian External Affairs Minister about the resettlement of IDPs which is progressing rapidly.
The Indian Minister noted that the two countries have a historic relationship with a conducive atmosphere to strengthen those relations. He added that the two countries have the ability to discuss any issue in a constructive manner and the President endorsed these sentiments. Both sides expressed satisfaction on Sri Lanka's post-conflict reconstruction and economic progress.
Two Indian consulates will be opened in Hambantota and Jaffna today and tomorrow while a plaque with regard to the Northern Railway is to be unveiled tomorrow.
The ground breaking ceremony for the housing project will also take place in Ariyalai tomorrow.
The Indian delegation included the External Affairs Minister, Foreign Secretary Nirupama Rao and Indian High Commissioner.
The Sri Lankan delegation included External Affairs Minister Prof G L Peiris, External Affairs Secretary Romesh Jayasinghe, Treasury Secretary P B Jayasundara, Secretary to the President Lalith Weerathunga and Power and Energy Minister Champika Ranawaka.
Source: Daily News
Latest Headlines in Sri Lanka