UNP MP Jayasekera has phone confiscated in Parliament
Posted by Editor on November 27, 2010 - 8:07 am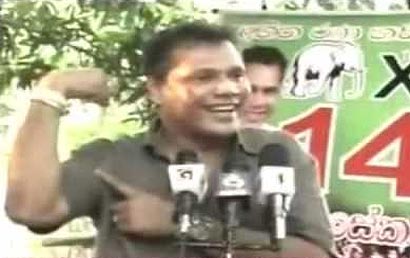 The mobile phone of UNP MP Dayasiri Jayasekera was confiscated in Parliament today after he attempted to play a speech made by President Mahinda Rajapaksa which he had recorded on his phone, during today's Budget debate.
Mr.Jayasekera who was participating in the debate had recorded a speech made by the President during an election rally in which he promises a Rs2,500 pay raise for public servants.
When Mr.Jayasekera began to play the recoding holding the phone against the microphone, several government members objected to it and Chief Government Whip Dinesh Gunawardena requested Deputy Speaker Chandima Weerakkoday to have it confiscated.
MP A.H.M.Azwar also opposed it vociferously stating that only live speeches could be made in Parliament and no recording could be played.
Later a chamber assistant talked up to Mr.Jayasekera and requested for his phone. It was then kept it on the table of the Secretary General of Parliament till the UNP MP finished his speech.
Courtesy: ST Online
Latest Headlines in Sri Lanka