President opens Neuro Trauma Centre
Posted by Editor on April 1, 2011 - 9:06 am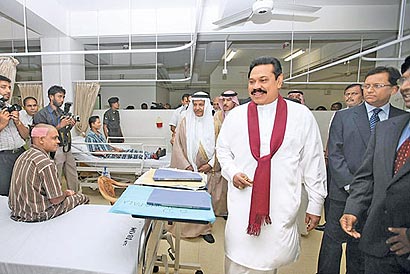 President Mahinda Rajapaksa opened the newly constructed 10 storeyed Neuro Trauma Centre at the National Hospital, Colombo yesterday.
US $ 15 million out of the total cost of Rs 3,000 million was granted from the Saudi Development Fund for the building. The building comprises eight operation theatres, six intensive care units each with 66 beds, one unit with 228 beds and one observation unit.
It is also equipped with a helipad.
President Mahinda Rajapaksa who inspected the MRI and CT scan units also spoke with several patients.
The President also presented a memento to Saudi Development Fund Manager and Vice President Usuf Al Bazar.
Courtesy: Daily News
Latest Headlines in Sri Lanka