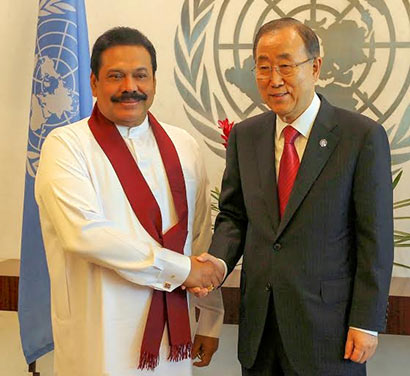 The meeting between President Mahinda Rajapaksa and United Nations Secretary-General Mr. Ban Ki-moon on the sidelines of the UN General Assembly Sessions was held at the U.N. Headquarters in New York City last evening (27 Sep).
President Rajapaksa outlined the developments that have taken place in the North and East in a short span of times, including the near-completion of all demining activities, the improvement of health services, and the rehabilitation, reconciliation and reintegration of ex-combatants, among others achievements. The President also informed the Secretary-General of the rehabilitation of schools that the Government has undertaken in war-affected areas. President Rajapaksa pointed out that after elimination of terrorism, some of the island's best results from national examinations now originate from the Northern Province.
United Nations General Secretary acknowledged the progress that has been made in Sri Lanka in the years after the war and expressed his optimism that the remaining challenges would also be overcome with the ongoing process in many areas including reconstruction, reconciliation and rehabilitation. He also underscored the need for wider political consultation for a successful political process. In this regard, he noted that all political parties must engage.
President Rajapaksa invited Mr. Ban Ki-moon to make another visit to Sri Lanka to assess the development since his last visit.
Monitoring MP of the Ministry of External Affairs Sajin de Vass Gunawardena, Secretary to the President Lalith Weeratunga, Secretary to the Ministry of External Affairs Mrs. Kshenuka Senewiratne, Permanent Representative of Sri Lanka to the United Nations Dr. Palitha Kohona, Deputy Permanent Representative Major General Shavendra Silva and UN officials were also present for the meeting.
– by Janaka Alahapperuma – Pix by: Udesh Gunarathna