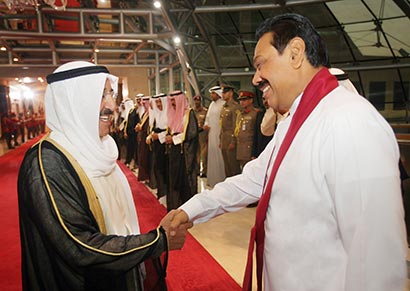 Onlanka News – By Janaka Alahapperuma
(Pix by: Sudath Silva)
President Mahinda Rajapaksa arrived in Kuwait to attend the First Asia Cooperation Dialogue (ACD) Summit today on 15 September. Sri Lankan President was warmly received by the Amir of Kuwait Sheikh Sabah Al-Ahmad Al-Jaber Al-Sabah at Amiri International Airport in Kuwait.
The Crown Prince of the State of Kuwait, Sheikh Nawaf Al-Ahmad Al-Jaber Al-Sabah, Prime Minister Sheikh Jaber Al-Mubarak Al-Hamad Al-Sabah, First Deputy Prime Minister and Interior Minister Sheikh Ahmad Al-Humoud Al-Jaber Al-Sabah, Deputy Prime Minister and Defence Minister Sheikh Ahmad Al-Khaled Al-Hamad Al-Sabah, Deputy Prime Minister and Foreign Minister Sheikh Sabah Al-Khaled Al-Hamad Al-Sabah, ministers, senior officials and senior officers in the army, police and National Guard were present at the airport to welcome President Rajapaksa. The honorary delegation was headed by Yaqoub Yousif Al-Ateeqi, the Ambassador of the State of Kuwait to Sri Lanka
Asian leaders are set to hold the summit from 16 to 18 October to discuss the way of enhancing cooperation to protect Asian countries from global economic crisis. They will also focus on ways to activate the forum, which was set up in 2002 to strengthen regional cooperation and dialogue among Asian countries.
The Amir of Kuwait Sheikh Sabah Al-Ahmad Al-Jaber Al-Sabah will open the three-day summit at Liberation Conference Building tomorrow (Tuesday) with the participation of 32 Asian leaders while the inaugural session is to be addressed by UN Secretary General Ban Ki-Moon and Thai Prime Minister Yingluck Shinawatra, who is the General Coordinator of the ACD.
During the visit, President Rajapaksa is expected to meet several Gulf leaders including the King of Saudi Arabia and the Emirs of Kuwait and Qatar on the sidelines of the summit.
Sri Lankan delegation includes Minister Susil Premajayantha, Parliamentarians Sajin Vaas Gunawardene, A.H.M. Azwer and Secretary to the President Lalith Weeratunga.
External Affairs Minister Prof. G.L. Peiris arrived in Kuwait last Friday for the ACD Foreign Ministers' meeting which was concluded today (15) prior to the inauguration of the summit.