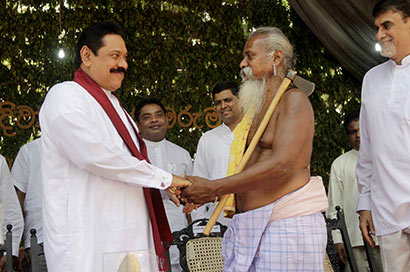 – by Janaka Alahapperuma – Pix by: Sudath Silva
President Mahinda Rajapaksa graces the National Aboriginal Day commemoration ceremony-2013 in Henanigala in Dehiattakandiya of Ampara District in Eastern Province this morning on 09 August. In early July Uruwarige Wannila Aththo the Chief of Aborigines (Adhivaasi) visited the Temple Trees and extended the traditional invitation to the country's head, President Rajapaksa to participate in the Commemoration Ceremony of the World Aboriginal Day.
The construction of the Indigenous peoples' heritage centre in Henanigala has commenced in parallel to the main ceremony. Several development projects including the opening of the housing project comprising 30 houses for indigenous people, provision of milking cows and bee boxes free of charge along with many other tools and equipments have provided to them to mark the occasion.
This time, various Aborigine groups spread throughout the country participated in this main ceremony. President Rajapaksa said that it is government's responsibility to protect the Sri Lanka's Vedda community and look after their wellbeing. Addressing the occasion, Wannila Aththo, requested the President to make necessary arrangements to confirm the identities of the aborigines who are living in many areas including Wakare, Jaffna and Batticaloa. Some groups, identified as the Coastal Aborigines were under the terrorists hold in the past. 'They were deployed in terrorist activities by force by the Tamil Tigers' Wannila Attho added.
The presentation of a Cab vehicle to the leader of the indigenous community Uruwarige Wannial aththo also took place yesterday at a different ceremony. Minister of Culture and Arts, T.B. Ekanayake was the chief guest at this occasion.
The annual Aboriginal Day celebrations in Sri Lanka gives people of all walks of life the opportunity to celebrate and share knowledge about the Aboriginal peoples' values, their unique heritage, customs, languages, and diverse cultures. The aborigines known as Veddas mainly live in the North-East and South-East regions of Sri Lanka.
Senior Minister P. Dayaratne, Ministers T.B.Ekanayake, Vijith Wijithamuni De Soyza, Govenour Eastern Province, Mohan Wijewickrama, MP Thenuka Widanagamage, local politicians and large number of officials were participated the ceremony.