Don't test patience of Tamils, MK tells Centre
Posted by Editor on August 9, 2013 - 1:37 pm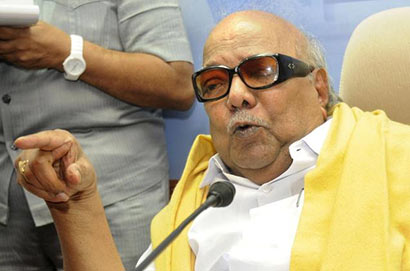 Upping his ante in the Lankan Tamils issue and attacks on state fishermen, DMK chief M. Karunanidhi-led Teso on Thursday `cautioned' the Centre not to test the Tamils' patience and instead take concrete steps on the lines of four Teso resolutions adopted earlier.
Addressing thousands of party cadres among others at the Teso rally organised at Valluvarkottam, Karunanidhi said the Centre should not dismiss the protests as `mere gatherings' in various places and "those in power should know that there is a limit to patience."
"The Centre should not take this lightly as mere gatherings in Chennai, Tiruchy, Madurai, Than javur, Nagapattinam, Tirunelveli, Coimbatore and Salem. Sri Lanka, too, which is hoping for the Centre's support, should not think that way …" he said, wondering, "For how many days will the Centre remain silent? For how long do we have to tolerate this? Those in power should know that there is a limit to patience."
"If even for this the Centre remains silent, who do we turn to for support and help?" Karunanidhi asked warning that the Centre would be insulting the Dravidians and Tamils if it participated in the CHOGM meet in Colombo come November.
Quickly adding that he does not intend to warn the Centre of an impending `danger' if it overlooks Teso's appeal and attends the CHOGM meet, Karunanidhi said the Centre should not put itself in a situation where the entire Tamil race would be cursing it. DMK treasurer M.K. Stalin led a similar rally in Tiruchy .
Teso urged the Centre to to protect Tamils, their art, culture and fishermen.
Further, it insisted that India take the responsibility in ensuring that the island government did not dilute the 13th Amendment on devolution of powers to Lankan Tamils. (DeccanChronicle)
Latest Headlines in Sri Lanka