President Rajapaksa holds bilateral talks with SAARC `leaders
Posted by Editor on April 30, 2010 - 4:05 am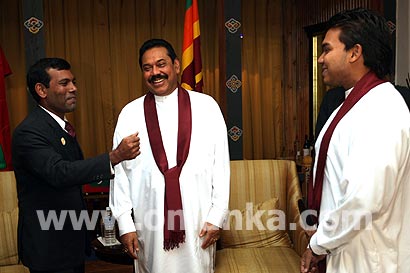 Onlanka News – By Janaka Alahapperuma – (Pix by: Sudath Silva)
President Mahinda Rajapaksa who is currently attending the SAARC heads of state conference is conducting bilateral meetings with South Asian leaders on the sidelines of the 16th SAARC Summit in Thimpu, the capital city of Bhutan.
Among the SAARC leaders President of Maldives Mohomed Naseed and Prime Minister of Nepal Madhav Kumar called on President Mahinda Rajapaksa at the Sri Lankan House in the SARRC village before the summit commenced. President of Maldives visited the Sri Lanka House first to meet President Rajapaksa. Both leaders discussed wide range of bilateral issues and Maldivian President said measures have been taken to create a better future for Maldivians under his leadership. Prime Minister Naseed personally congratulated President Rajapaksa for the landslide victories in recent elections in Sri Lanka.
During the discussions, the Nepalese Prime Minister Madhav Kumar said that his government conducts talks with the Maoists group regarding a new constitution and inquired the strategy implemented in Sri Lanka for defeating Tamil Tigers, the most dangerous terrorist organistion in the world. President Rajapaksa also promised to extend Sri Lanka's fullest support to develop the sacred Buddhist site of Lumbini, the Birth place of the Lord Buddha. Both leaders agreed to commence direct flights between Sri Lanka and Nepal soon.
President Mahinda Rajapaksa is also scheduled to hold bilateral talks with other SAARC leader including the Prime Minister of India Dr. Manmohan Singh and Mr.Syed Yosaf Gillani, the Prime Minister of Pakistan with the sidelines of the summit.
Latest Headlines in Sri Lanka