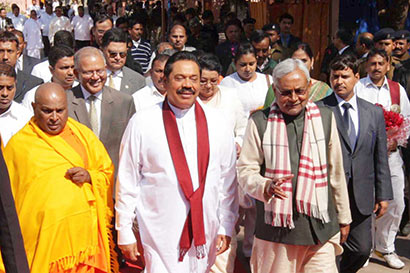 By Janaka Alahapperuma – Pix by: Sudath Silva
President Mahinda Rajapaksa arrived at the Mahabodhi temple in Bodh Gaya, India this afternoon on Friday 08 February on a two day private visit for pilgrimage. The President was warmly received at the Gaya International Airport by Chief Minister of Bihar Province, Nitish Kumar and senior state government and police officials. He was accorded a guard of honour by the state police.
From the airport, the convoy of the Sri Lankan delegation was driven straight to the Mahabodhi temple which hosts a 1500 year old temple, the most sacred to Buddhists worldwide, where they performed religious rituals.  President Rajapaksa meditated before the holy Sri Maha Bodhi Tree where Lord Buddha attained enlightenment 2600 years ago. The President visited the Sri Lankan Buddhist Viharaya in the temple town near Bodh Gaya. He would participate in the inauguration ceremony of the new cultural centre in Bodh Gaya.
The Chief Minister will host a banquet for the Sri Lankan President and his delegation, the Indian officials said. Later he will visit Tirupati in Andhra Pradesh before returning to Sri Lanka on Sunday. However Sri Lankan President will not visit New Delhi to meet the Indian leaders. The President accompanied by First Lady Shiranthi Rajapaksa,  Monitoring MP Sajin Vass Gunawardena, Secretary to the President Lalith Weeratunga and a 70-member delegation.
Meanwhile the DMK, MDMK, pro LTTE political parties and their supporters held state-wide protests in the national capital and in Tamil Nadu today protesting the visit of Sri Lankan President. DMK Chief M. Karunanidhi who is an ardent supporter of Tamil Tigers, leading a protest held by Tamil Eelam Supporters Organisation (TESO) accused President Rajapaksa for eradicating Tamil Tiger terrorism, ending 30 years of brutal war in Sri Lanka. Karunanidhi said Rajapaksa is not willing to give autonomy for Sri Lankan Tamils and trying to annihilate not only the Tamils but also their culture, tradition and Tamil language in Sri Lanka. He further added that the protests were being held to teach Rajapaksa a "lesson".
Hundreds of cadres belonging to DMK, VCK and other Tamil outfits and their leaders participated in those protests wearing black shirts. Around 30 members of VCK party were taken into custody near the Tamil Nadu-Andhra Pradesh border for holding protests. In Hosur in Karnataka, members of various Tamil outfits were taken into custody for protesting on the railway tracks. Lawyers in some districts like Villupuram, Dindugul and Sivaganga in Tamil Nadu boycotted the courts opposing Sri Lankan President's visit and burnt his effigies.
Members of various Tamil outfits also protested outside the Sri Lankan consulate in Chennai against President Rajapaksa's visit. Protests were also held in the temple town of Tirupati, where prohibitory orders were imposed, and in the national capital, New Delhi. MDMK chief Vaiko and his supporters were today detained when they tried to march towards the Prime Minister's residence in protest against the visit of Sri Lankan President to India. He also demanded to close down the Sri Lankan High Commission in the capital New Delhi. The protesters demanded Indian government to vote against Sri Lanka in Geneva. They also demanded that the Commonwealth summit (CHOGM) in November should be taken away from Sri Lanka.